Exclusive
Kourtney Kardashian & Scott Disick Struggling To Tell 5-Year-Old Son Mason & Siblings About 'Pop Pop' Bruce Jenner's Transition To Grandma!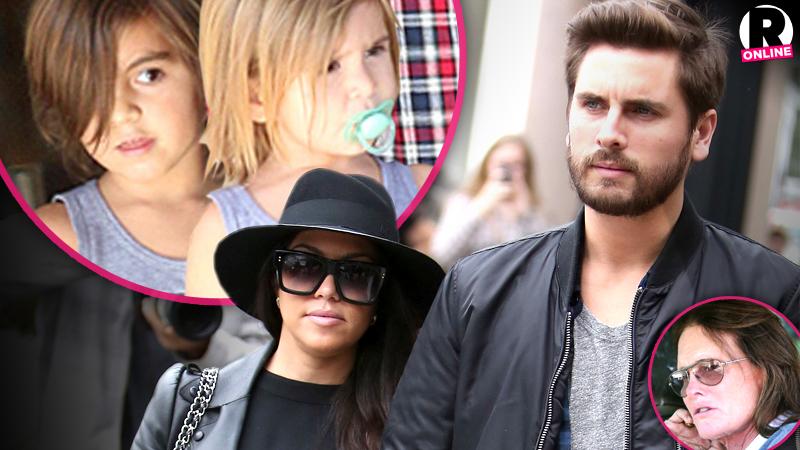 Kourtney Kardashian and three-time baby-daddy Scott Disick are facing one of their toughest challenges yet — but this time it has nothing to do with their relationship! According a source close to the Kourtney & Khloe Take The Hamptons reality family, the couple is "struggling over how to explain to their children that their grandfather Bruce is becoming a woman."
"The whole family is supportive of Bruce's transition," the source tells RadarOnline.com exclusively, referring to Kardashian, 35 and Disick, 31, as well as their three children Mason, 5, Penelope, 2, and newborn son, Reign. "But Scott thinks it is going to be a little weird to have to explain to the kids what is going on."
Article continues below advertisement
"They are too young to understand," the source said. "As of right now, Bruce is 'Pop-Pop' to Mason and they do not know how they are going to tell Mason Bruce is going to now be a grandma."
"Penelope is at that age where she will not remember Bruce as a man," the source continued, "and the same thing with Reign. But Mason is so inquisitive and nothing gets by him."
As Radar reported, 65-year-old Bruce Jenner is going to discuss his transition to become a woman in the near future with Diane Sawyer and he is going to undergo gender reassignment surgery in the next few months.
"Kourtney and the kids love Bruce," the source tells Radar. "He has taken good care of them and has spoiled Kourtney and the children rotten as long as he's known them. They'll figure it out."
Do you think that Kourtney and Scott should wait to tell Mason about Bruce Jenner's transition until he is a little older? Let us know in the comments below.