The War Ignites –– Again! Kendall Jenner Orders Amber Rose To Be KICKED OUT Of Coachella V.I.P. Area After Family Feud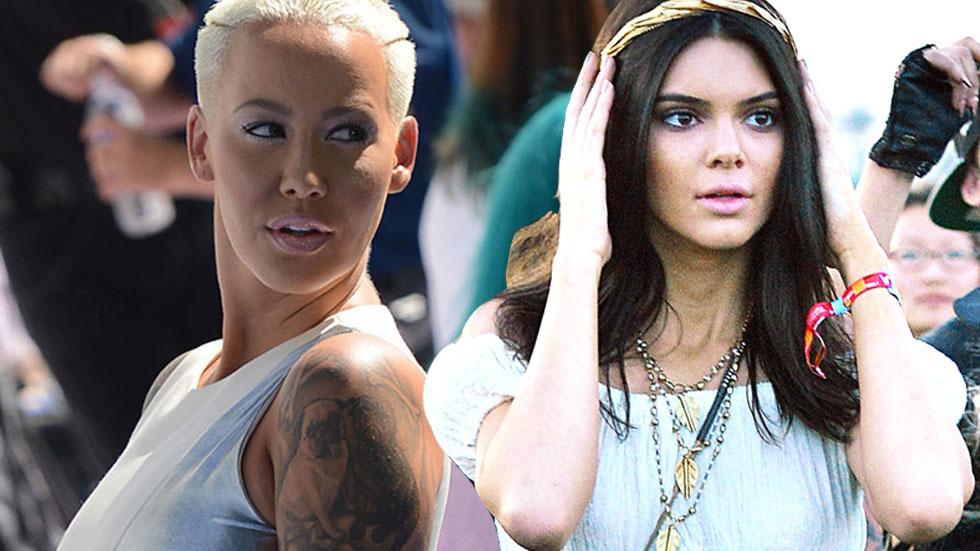 Kendall Jenner had Amber Rose -- no friend of her family -- booted from her VIP table in a cabana at a Coachella event Saturday.
The incident occurred when the gorgeous Rose settled into a table at the Bootsy Bellows estate for a pool party sponsored by McDonald's and Chevrolet.
When the 19-year-old model arrived at the bash with pal Hailey Baldwin -- and saw the 31-year-old hip-hop stunner perched in her spot, she snapped, "No way, this is not happening," US Weekly reported.
Article continues below advertisement
Jenner had staffers ask Rose to leave, sources said, noting that Kanye's ex put up a minor protest by saying, "My drink is here," before leaving. She reportedly gave Kendall a dirty look as she vacated the area.
For the rest of the party, an eyewitness said, "Amber was hanging out pretty much by herself at the edge of the pool. She had one or two friends around her but otherwise she wasn't really interacting with anyone and seemed down."
Rose denied the item speaking to E!, saying the events described in the US story "just never happened.
"It's so annoying ... they pull stories out of their f*cking asses," Rose told the outlet at the MTV Movie Awards Sunday, adding, "Me and my friends had a great time and I'm sure Kendall did too."
Of course, the incident comes as result of Rose's outspoken stand against the family, which began around two months ago when the short-haired stunner expressed her disgust at (pal Blac Chyna's baby daddy) Tyga's rumored relationship with Jenner's younger sister Kylie.