Shocking Health Crisis For Duggars: Josie Suffers Scary Seizure While Sister Jana Is In Charge –– Dad Jim Bob Calls It 'Life-Threatening Situation'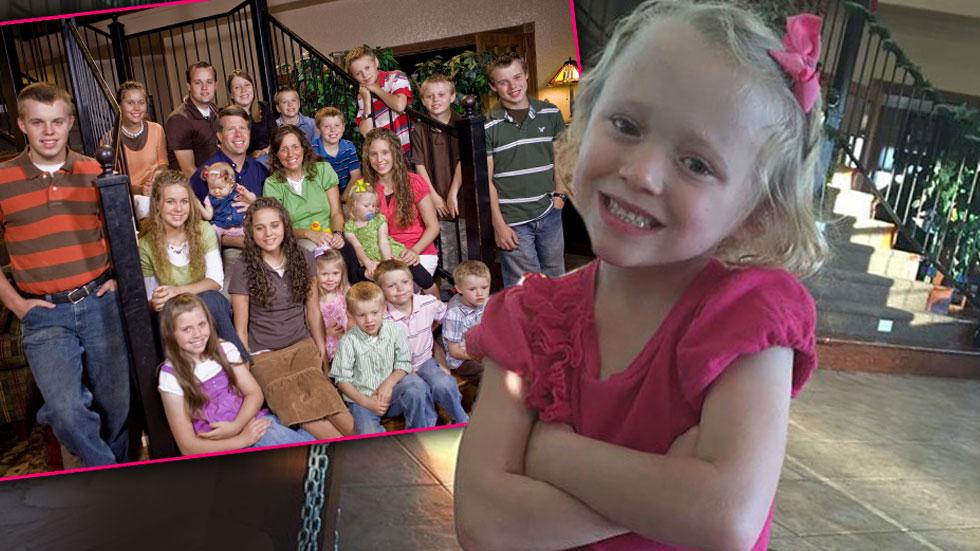 On Tuesday night's 19 Kids and Counting, 5-year-old Josie Duggar suffered a seizure, bringing a life-or-death drama to the family show centered around the 19th child.
Josie was born prematurely in 2010 at less than two pounds -- and she's still terribly fragile.
The dramatic scene unfolded when parents Jim Bob and Michelle Duggar were away at a meeting in Chicago -- with Grandma Duggar and Jana in charge of the Arkansas family in their absence.
Article continues below advertisement
Oldest daughter Jana recalled in confessional that little Josie had been completely normal, playing as usual. But then brother James asked her a question "and she didn't really respond, was just kind of sitting there staring and then started jerking. He knew immediately, okay, that's the sign of a seizure," Jana said.
A panicked Jana was shown leaning over Josie and whimpering as the youngster was lying on the kitchen counter in the Duggar home.
19 Kids and Counting director Scott Enlow, who had been filming elsewhere, rushed in "and tried to help keep Josie alive," Jim Bob told the cameras.
After Jana begged, "Please, please" over her ailing sister, the paramedics came and took charge.
Jana told them Josie had been ill for 10 minutes.
In confessional, Jana remembered, "She was starting to turn a little blue and purple."
A paramedic said she was breathing but "had a little bit of vomit in her mouth."
Article continues below advertisement
They took her to the hospital.
Jana revealed to viewers it was the third or fourth seizure Josie had had.
Michelle said of her youngest child, who was born 15 weeks premature at one pound, six ounces and fought for her life in an incubator: "One of the little glitches for Josie is that if she runs a fever, she does have a tendency to have seizures and it might happen just like that, she'll spike a temp when you least expect it and she'll have a seizure."
Jana said the doctor thought Josie's muscles were so tight he wanted to do a CAT scan and "this could mean that her brain isn't functioning as well."
Michelle recalled how she and Jim Bob were far away and there was nothing they could do except pray: "It makes your heart drop."
Jana said it took awhile for Josie to get back to normal, but the dazed girl arrived home after her fever decreased.
When her parents returned the next day, Josie was fine and Jana couldn't have been more relieved they were back.
Article continues below advertisement
"I'm all better now," Josie smiled to the cameras.
Jim Bob admitted it was a "life-threatening situation," adding, "I'm so grateful to God that Josie's okay."
Also on the episode, fans saw Jessa Duggar and Ben Seewald, just returned from their honeymoon, move into their new Arkansas home with the help of all her siblings moving furniture.
Meanwhile, Jill Duggar and husband Derick Dillard visited Josh Duggar and wife Anna in Washington, D.C.
While Josh gave Dillard some fatherhood tips, such as how to strap a baby into a car seat, the ladies discussed pregnancy as Jill was 31 weeks along, and Anna, expecting her fourth, was at 16 weeks.
Pregnancy cravings were a big topic as Anna longed for lamb, while Jill wanted spicy and sour food and chocolate milk.
Jill told Anna smells had bothered her but once morning sickness had abated, she indulged in Mexican food.
Article continues below advertisement
"This child might come out speaking Spanish -- I eat it all the time," Jill said.
During the show, Jill and Dillard were seen in a video commenting on the devastating earthquake in Nepal.
The couple began their courtship when Dillard was a missionary there.
"Obviously the place and the people are very close to Jill and I's heart," Dillard told fans.
Jill said they were praying for Nepal and referred viewers to the TLC web site to help in relief efforts.
Watch the video on RadarOnline.com
Later, Jessa was shown making her first meal at home for Seewald and admitted she had a habit of burning things.
Watch the video on RadarOnline.com
This time, she had forgotten to take the owners' manual out of the new stove -- and it burned and melted inside!
In the second TLC episode on Tuesday night, Michelle and Jessa went shopping for nursery furniture with Jill and Jessa mused, "Who knows? I could be next." (In fact, she's now expecting)
Also, at the midwife's clinic near her DC home with Josh, Anna was determined to have another home birth and said, "They want you to take ownership of your pregnancy. There are a lot of things you get to do yourself."
However, pregnancies often don't go according to plan and 19 Kids and Counting viewers will see on next week's episode how Jill wound up having to go to the hospital and get a C-section.