'We're Expecting!' Jessa Duggar & Ben Seewald Announce They're Expecting First Child This Fall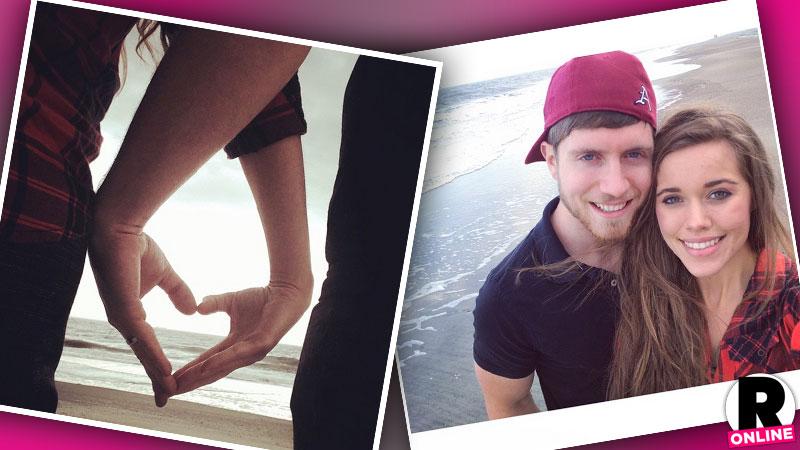 Jessa Duggar and Ben Seewald on Tuesday announced they're "expecting" their first child this fall, with a due date of Nov. 1 set.
The 19 Kids and Counting beauty, 22, told People, "We're expecting! We are so excited," adding that their fall due date coincides with their wedding anniversary.
The devout mom-to-be said she's "feeling pretty good," albeit coping with bouts of morning sickness, which have been "different every day.
Article continues below advertisement
"It's getting better, but I'm still hanging on to the heartburn," the excited reality star told the magazine. "And I don't have any super serious food cravings."
Ben, 19, added, "We are looking forward to being parents ... we are trying to take it one day at a time ... we pray every night that God helps us be good parents."
The father-to-be added that he and Jessa have been "getting advice from other parents" in anticipation of building their family.
Jessa said that the newlywed couple learned the wonderful news prior to a visit to church, confirming the news via a pregnancy test.
"I said, 'Hey Ben, guess what? Yeah, you're a dad,'" she told the magazine. "We couldn't believe it. We are so excited. We have started talking baby names. It is one of those things that is so special, picking a name for a baby."
The pair, who previously discussed adopting a child, said their "hearts haven't changed" in regards to the idea, and that they're "still making plans" for when they'll be eligible to adopt starting in November of 2016 (when they reach their two-year anniversary).
As RadarOnline.com previously reported, clever fans were already speculating on the couple's prospective parenthood earlier this month.
Jessa's older sister Jill and her husband Derick Dillard had their first child, son Israel David, earlier this month.
On Tuesday's 19 Kids & Counting, airing at 9/8c on TLC, the parents-to-be will address the big announcement in a special segment.