Get Busy You Two! Jim Bob's Pre-Wedding Advice To Jessa And Ben: 'Be Fruitful And Multiply'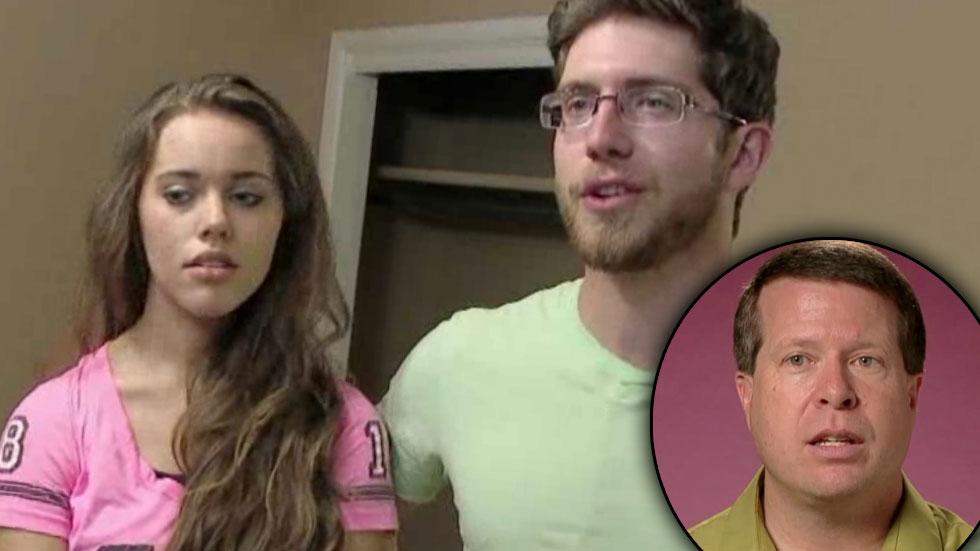 Quoting the Bible on Tuesday's 19 Kids and Counting, Jim Bob Duggar told daughter Jessa and her soon-to-be husband Ben Seewald to "be fruitful and multiply."
The patriarch was shown ordering Jessa and fiancé Ben to follow in his and wife Michelle's very fertile footsteps and start working on having babies as soon as they tied the knot.
On Tuesday's episode of the TLC reality show, the young couple enjoyed a wholesome combined bachelor/bachelorette football game party two days before their wedding, and afterwards Jim Bob gave them advice in front of the large group.
Article continues below advertisement
But after the wedding is a different story and during the Tuesday episode, Jim Bob couldn't wait for Jessa and Seewald to get busy.
"We look forward to their future family," he said.
And is Jessa expecting already?
As RadarOnline.com recently reported, The 19 Kids and Counting beauty appeared to be pregnant in a photo that emerged on a Facebook page dedicated to Duggar family news.
On the episode, Jessa's mom Michelle told the cameras Jessa was busily preparing for her soon-to-be role as a housewife: "As the Lord blesses them with children, Jessa would really desire to be at home with the kids and so the majority of the cooking will probably be on her shoulders."
Article continues below advertisement
Jessa said, "I've gotta work on some of these skills," as she was shown practicing baking apple pie and other foods Seewald might like.
Sister Jana remarked that the cooking lessons "will definitely help prepare Jessa to be that wife that she needs to be and it will make their marriage run a lot smoother."
Also on the episode, Jim Bob revealed Jessa, 22, was quite different from her sister Jill, who married Derick Dillard and is expecting their first child any day now.
"Jill was a compliant little baby who never cried," Jim Bob recalled, while "Jessa was a handful … full of energy."
Clips illustrated how while growing up, Jessa had been the family organizer who told everyone else what to do and even helped home school her brothers and sisters.
Brother Jason said, "The phrase 'Don't mess with Jess' is feared."
"I don't know who will take over Jessa's role," Michelle sighed.
Article continues below advertisement
Jessa said her parents had encouraged her to write a list of she wanted in a future spouse, and Seewald "met every one of my desires."
Mom Michelle gushed, "Ben is like an artist, very thoughtful, sensitive, and compassionate. Usually, opposites attract."
But both stuck to their pre-marital rules. And there would be no wild antics before the wedding for the pair.
Instead, the joint bachelor/bachelorette football game would be an all-male affair pitting Jim Bob's team against Seewald's. The future father-in-law came out on top.
After the football game, Jessa was presented with a pink football all the ladies had signed as a special keepsake.
Jim Bob was thrilled to win the game, while Seewald whispered to Jessa, "You're my Super Bowl."
Meanwhile, Jessa said in confessional, "I'm really excited about getting married but at the same time, I'm like, kind of sad I'm leaving my family."
Next week, viewers will finally see the big wedding episode on TLC!