Exclusive
Settled! Jeremy Renner Reaches Custody Agreement With Ex-Wife — Inside Their Surprise Deal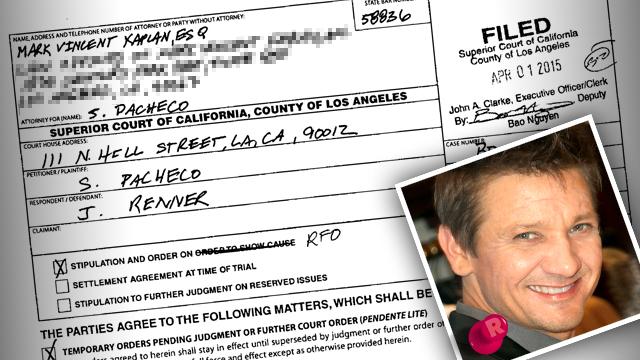 Jeremy Renner has reached a custody agreement regarding his two year old daughter, Ava, with estranged wife, Sonni Pacheco, RadarOnline.com has confirmed.
According to documents obtained by Radar, the Mission Impossible star has agreed to joint custody of the girl, and will pay Pacheco $13,000 in child support monthly​.
It's a stunning development because just last week, Renner's roommate and business partner, interior designer, Kristoffer Winter, claimed Pacheco had revealed she had used cocaine during a trip to Canada to visit friends.
Article continues below advertisement
Winter previously claimed in court documents, "She (Sonni) took trips to Canada at least twice after Ava was born. She did not bring Ava with her on either trip. She told me that she needed some 'alone time.' Upon her return from one of these trips, she told me that she spent an hour with her family and spent the rest of the time partying and doing cocaine with friends."
Renner did not repeat these claims in his own supporting declaration, but he insisted that "Kristoffer is like a brother to me and an uncle to Ava. My mother and Kristoffer were in the delivery room when Ava was born."
Winter's explosive allegations came after Pacheco previously accused Renner of choosing to "participate in a soccer game, attend fashion shows, and parties," rather than spend time with their daughter.
"The fact is since Ava was born through our separation in November 2014, Jeremy Renner rarely sought to spend time with Ava when he was in town, instead electing to spend time on the computer by himself, at social dinners, or at Kristoffer Winter's office," Pacheco said in the court documents.
Pacheco filed for divorce from Renner last year, after only ten months of marriage. The former couple did have a prenuptial agreement.