Book Exposes Famous Families' Secrets — From Michelle Obama Hiring Heir Of Voodoo Priestess To Queen Elizabeth's Strip Session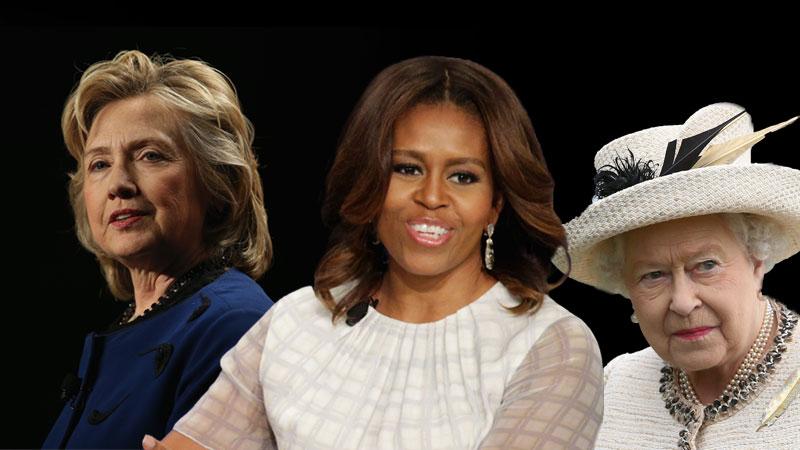 RadarOnline.com has obtained a sneak peek of The Residence, the tell-all new book by Kate Andersen Brower, and it reveals some major shockers at the highest levels of government.
Hillary Clinton faces potentially devastating "character" questions on the eve of her Presidential campaign, with allegations that she was obsessed with re-decorating the White House — not policy making — when she was First Lady.
Article continues below advertisement
Brower's book reveals the first orders that she issued on the Monday after Bill's election victory in the 1992 Presidential race were to her favorite Arkansas decorator, Kaki Hockersmith, who was given a $400,000 budget to makeover the official residence.
"The effort raised some eyebrows," Brower notes. "Chief Electrician Bill Cliber, who worked on nine transitions, said that the Clintons' arrival was by far the most difficult."
Hockersmith was so busy keeping up with Hilary's demands, that she was forced to occupy the Queens' Bedroom — named for the foreign royals it traditionally hosted — during the re-decoration effort, which took up much of Bill's two terms. Her tasks included transforming a "drab" butler's pantry into an eat-in kitchen "where Chelsea could do her homework."
And Barack Obama hasn't exactly been afraid to drop major coin on his own pet projects. According to the book, he spent $4,995 having the South Lawn tennis court converted to a basketball court. This was "one of the president's preoccupations," during his first days in office, reveals Brower.
Article continues below advertisement
The Chief Usher, Stephen Rocher, was briefed to install removable hoops, paint lines and to order basketballs decorated with the White House seal.
Meanwhile, the equally status-conscious Michelle installed a Harvard MBA who is descended from a Creole voodoo priestess, Desiree Rogers, as her social secretary. "In her first sixty days in the post, Desiree coordinated more than fifty events," says Brower. "That's twice as many as President George W. Bush held during the same period of his first term, and surpassed even the pace of the party-loving Clintons."
White House florist Bob Scanlan adds, "Desiree made it quite clear that they didn't want what we had been doing." His team were instructed to make the White House look like "the Four Seasons" — referring to the high-end hotel chain.
In public, Brower points out that Michelle gives a very different picture… insisting that the First Couple are "anxious to raise their daughters in as normal an environment as possible, even while living in a household staffed with dozens of cooks, butlers and maids."
Article continues below advertisement
Across the pond, Britain's Queen Elizabeth II and her husband Prince Philip were models of "endearing informality" compared to the imperious Michelle and Hillary. Offered the services of a maid to help her disrobe, "Elizabeth II shocked the staff," reports Brower, "by undressing herself after a state dinner — and leaving her diamond tiara, a hefty diamond necklace and other priceless jewels strewn about the room."
Two butlers, Lynwood Westray and Sam Washington, recalled Philip making an "extraordinary" gesture when the royals were houseguests of President Gerald Ford during the 1976 Bicentennial celebrations.
"Your Majesty, would you care for a cocktail?" Westray asked when they spotted the Prince sitting alone late one night in the residence's Red Room.
"I'll take one — only if you let me serve (you,)" the Prince replied.
"No one had ever asked us that before," Westray told the author. "Pulling up chairs, in shock," the butlers allowed the Prince to wait on them.
Brower also located the widow, Margaret Arrington, of a longtime White House Plumbing Foreman, Reds Arrington. "Reds told his wife that when Queen Elizabeth II came to visit, the plumbers had to build a chair that would fit over the toilet seat for her majesty — almost like a throne. 'Reds just said that was really a 'royal flush,'" Arrington giggled.