Exclusive
Giuliana Rancic Recounts Devastating Goodbye To Late Friend Joan Rivers In New Tell-All: 'I Wept Myself To Sleep'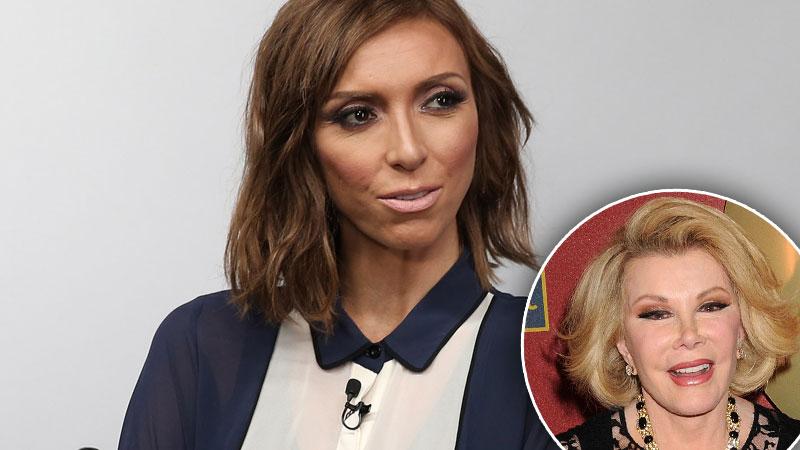 When veteran comedienne Joan Rivers died suddenly in September, her close friend Giuliana Rancic bravely and very professionally gave a heartfelt tribute in an E! special. But off camera, the 40-year-old TV personality had a meltdown over the devastating loss.
In her new memoir, Going Off Script, Rancic recalls her sad goodbye to her Fashion Police cohost and mentor, who died at 81 after a botched throat surgery.
Article continues below advertisement
When Rancic arrived at the New York hospital, Rivers' daughter Melissa told her to say her last goodbye before they unplugged the ventilator.
"On her deathbed, her nails were perfectly manicured and painted a deep vampy purple. Her hair and makeup were done, as well. Joan was just Joan sleeping," she writes. "Her favorite show tunes played in the background. I came in the middle of 'A Chorus Line.'"
The mom of 2-year-old Duke says she prayed Rivers would wake up and ask "why the hell she was in a hospital room with people crying."
"When I sadly realized that wasn't going to happen, I spent the next fifteen minutes talking to her and thanking her for taking a chance on me, for all the invaluable advice, and for making me feel loved each week," she claims. "Finally, I said one last goodbye through my tears, then walked out and hugged Melissa tightly."
Article continues below advertisement
Crushed by Rivers' impending death, Rancic fell into her husband Bill's arms, sobbing. And she didn't stop for an entire night and day.
"I wept myself to sleep," she says. "I spent the entire next day in bed, buried beneath the covers, crying until there were no tears left."
In her book's acknowledgements, Rancic thanks Rivers for her "willingness to take a chance on a girl with a funny name."
The Giuliana & Bill star says she first met Rivers on her very first day at E! in 2001. Rather than ignore the newbie, the TV icon gave her smart advice on signing her business contract— but couldn't get her name right.
During their first reporting assignment together, Rivers called her "Gooey" and "Hooliana."
"I should be upset that you just mangled my name, but you can call me whatever you want," Rancic says she responded. "I'm just so honored to be here hosting with you."