I Could 'Hear Whitney Asking For The Stuff': Late Houston Used Drugs With Bobbi Kristina Brown & Nick Gordon, His Brother Claims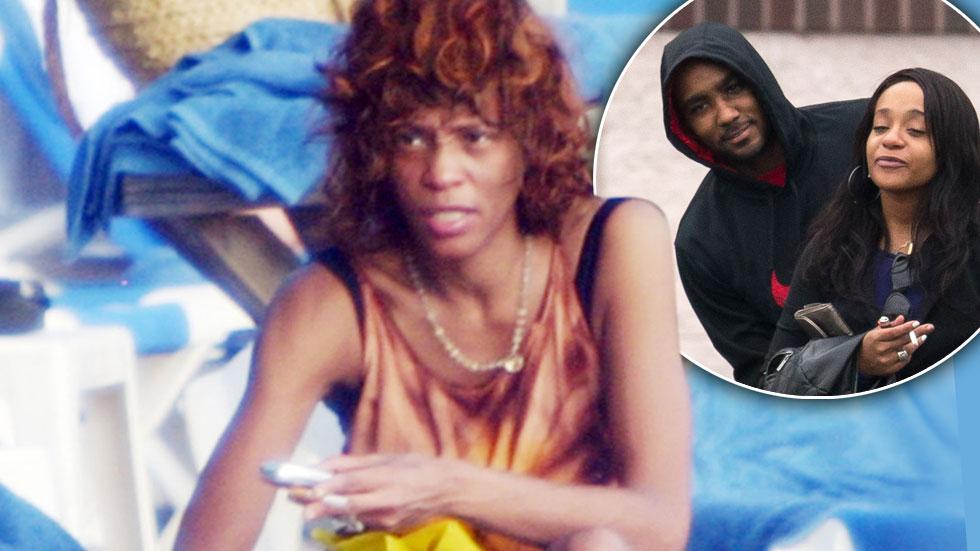 Whitney Houston used drugs with Bobbi Kristina Brown and Nick Gordon, according to Gordon's brother Jack Walker.
Speaking with Extra on Thursday, Walker said that Bobbi Kristina and his brother were regularly using drugs "when Whitney was alive," and he overheard the late singer also indulging.
"I would be on the phone with Nick," Walker said, "and I can hear Whitney asking for the stuff ... same stuff they were doing."
Article continues below advertisement
Walker stressed that the Bobbi Kristina and Gordon were using drugs long before Houston's shocking death in February 2012 .
"This wasn't something that just came about when Whitney died, this has been around since before," he said, adding that the late "I Will Always Love You" singer "definitely" allowed the to bring and use narcotics in her Atlanta home.
"Mmm hmm -- that I can tell you, yep," he said.
Walker said he told his brother and Bobbi Kristina that he "wasn't comfortable" with their self-destructive habits, and he "didn't like being around them like that."
"I let Nick know, 'Slow down on that. You need to stop doing that.'"
Watch the video on RadarOnline.com
Walker also gave insights into the hours leading up to Bobbi Kristina being found unconscious in a bathtub Jan. 31, which led to resulted in severe brain damage for the 22-year-old and an ongoing, months-long vigil for her family.
Article continues below advertisement
"I guess they went to a club the night before and that's where it all stemmed," he said. Bobbi Kristina and Gordon "got in an argument from there and then it carried on to the house and they just went in separate parts of the room, and that's as far as I know what went on there.
"I mean, I knew how depressed Bobbi Kristina was, I knew about her drug use. I mean, all that mixed together with arguments is never, never good."
Walker feels Bobbi Kristina was trying to kill herself that night, as "she just was fed up with everything that's going on in her life."
Gordon, who's currently in rehab, never laid a hand on Bobbi Kristina, Walker said, adding that his brother has been sober "for almost seven weeks.
"He's actually surprised that he stayed, to be honest with you," Walker said. "He's like, 'I'm proud of myself for staying, I didn't think that I'd be able to do it.' He's not the same person he was when he went in."
As RadarOnline.com previously reported, Bobbi Kristina's father Bobby Brown told Dallas concertgoers at Dallas' Verizon Theatre Saturday that his daughter was . Bobbi Kristina's grandmother Cissy Houston later denounced the "On Our Own" singer's statement, saying that granddaughter has " and remained unresponsive" in care at an Atlanta rehabilitation facility.