Exclusive
Big Ang's Tumor Scare: 'Mob Wives' Star Previously Underwent Thyroid Surgery, Has History Of Heavy Smoking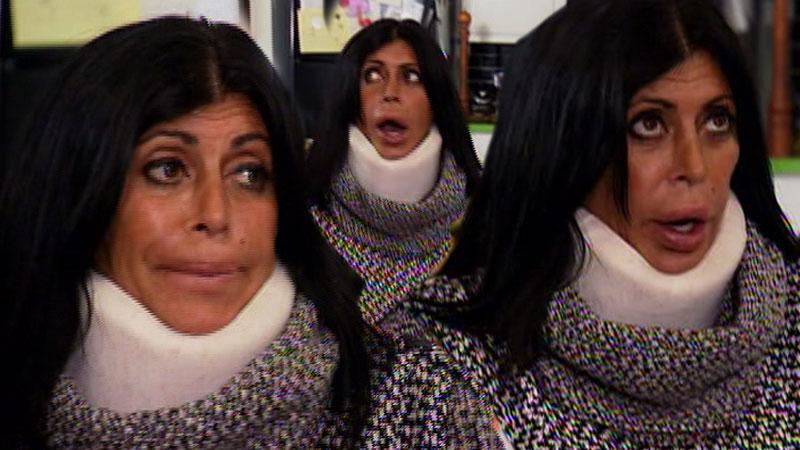 Poor Ang!
Doctors have found a large tumor Angela "Big Ang" Raiola's throat— and she'll soon be undergoing major surgery for the unknown mass's removal, sources confirm to RadarOnline.com.
Though her medical scare may come as a shock to fans, RadarOnline.com can reveal that the Mob Wives star, 54, has a history of health issues related to her throat.
On the second season of the hit VH1 reality show, Raiola confided in pal Drita D'Avanzo that she had recently undergone surgery on her thyroid.
Article continues below advertisement
"I'm having a little problem with my thyroid," the tough-as-nails star, wearing a neckbrace, told D'Avanzo at home during the episode. "It's gonna have to be removed in the future."
"It's horrible, I hate it," she added of the procedure. "I don't ever want to have surgery again!"
Raiola's current medical crisis could also stem from her lifelong smoking habit.
"I smoked Malboro red cigarettes for 35 years," she bragged in a 2012 radio interview, explaining how she acquired her signature raspy voice.
Though she's now in her mid-50's, Raiola recently confessed that she won't quit.
"I don't want to smoke, but I just can't help it," she admitted in a 2013 interview with NJ.com. "Now, they give you this medicine…They say it gives you these crazy nightmares, I don't need that. I'll just smoke."