Exclusive
New Details: Big Ang 'Nervous' About Upcoming 7-Hour Throat Cancer Surgery, Says Sister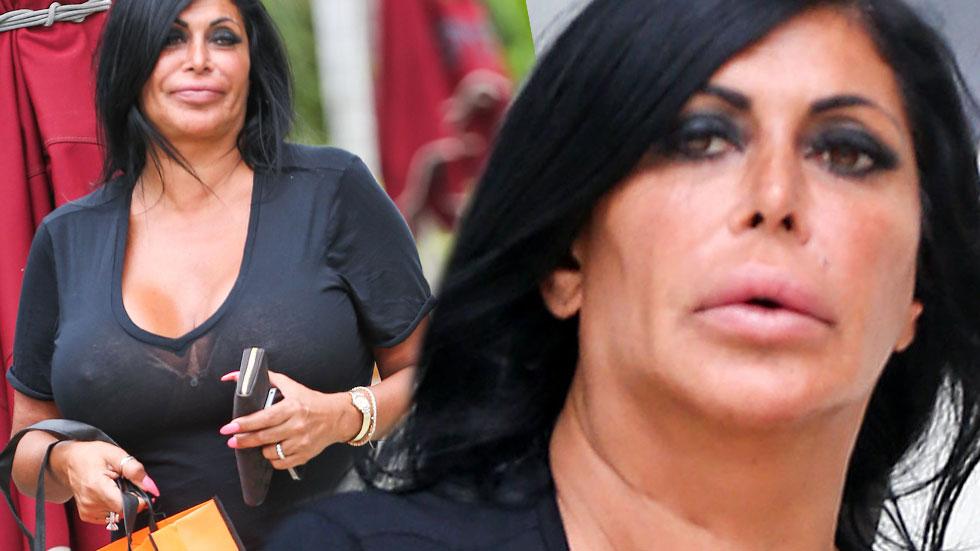 Earlier this week, RadarOnline.com revealed that Angela "Big Ang" Raiola discovered that she has a massive tumor in her throat.
Sadly, she has since found out it's cancer, and she's terrified of the seven-hour surgery that now awaits her.
"The tumor is cancerous: It's throat cancer," Ang's younger sister Janine Detore tells Radar. "It's on top of the voice box."
Raiola has yet to get the full prognosis though.
Article continues below advertisement
"They didn't give her a stage," Detore says. "I think when she gets the surgery to remove it, they'll probably have all the answers by then."
Right now, Raiola isn't "in the hospital… but she is going to go into surgery next week," Detore says.
Detore expects that once the surgery is done, that's when Raiola will decide on the next course of treatment.
"You don't know what they are going to do: whether they are going to have chemo or radiation or nothing," she says. "She doesn't know yet."
With the date approaching, Raiola is starting to get nervous about the surgery.
"Who wouldn't get nervous about having a 7-hour surgery?" Detore says. "It's a long time so of course she's nervous. She's got a lot of nieces and nephews that are worried, her grandchildren, her daughter, her son, her husband, her other siblings… we're all nervous of course."
But her doctor is hopeful about the outcome.
"She's going to be in the hospital for a little bit, but the doctor is optimistic about it," Detore says.
And Raiola is surrounded by her loved ones.
"We're just being a family, going to her house, making her feel like we're all there, which we are," Detore says. "We are all going to be at the hospital when she gets the surgery. Just a lot of support, love, trying to make everything normal."
Plus, Raiola has one other surprise that is helping her to keep her head up.
"We are waiting for her third grandson to be born any day now," Detore says. "So we are keeping that spirit going. This is going to be her fifth grandchild. We're excited."