Big Ang Speaks! 'Mob Wives' Star Calls Throat Crisis 'Minor Setback,' Says She 'Isn't Going Anywhere' In Positive Facebook Post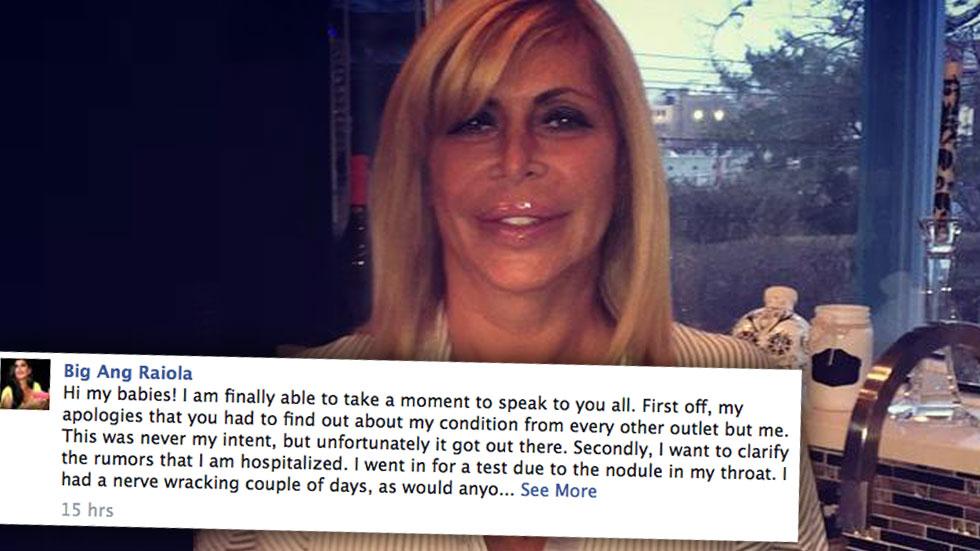 She's here to stay!
Angela "Big Ang" Raiola has confirmed RadarOnline.com's report that she's heading to the hospital next week for throat surgery, but she wants fans to know that she's going to be okay.
"I went in to the hospital for a test due to the nodule in my throat…This coming week I will be taking proper precautions and having it removed," the Mob Wives star, 54, announced in a Facebook post last night. "Big Ang isn't going anywhere! This is a minor setback, but I promise you this…I already have some BIG things in the world and will be returning to your TVs very soon."
Article continues below advertisement
The outspoken reality star slammed reports that she's currently in the hospital.
"I had a nerve wracking couple of days, as would anyone when you hear testing…However, I am home peaceful and relaxing," she clarified.
Raiola, who often travels the country meeting fans at raunchy nightclubs, credited her followers with lifting her spirits.
"I do want to say that you have all been on my mind every step of the way and I am so thankful to each and every one of you for the love, support, prayers and most of all positive wishes," she continued.
"I'm fortunate and blessed to have discovered something very early, and handle it in a positive manner," she said, promising to send updates. "I love you all from the bottom of my heart."
Raiola included a smiling photo of herself looking happy and healthy.
https://www.facebook.com/bigangofficial/photos/a.1430665610478963.1073741828.1415805188631672/1614034788808710/?type=1&theater
However, she may not be out of hot water yet.
As RadarOnline.com reported, Raiola has admitted to being a heavy smoker, which can lead to cancer of the lungs, mouth and throat.
"I don't want to smoke, but I just can't help it," she recently confessed.