Explosive Fight! Bethenny Frankel Shuts Heather Thomson Down After Being Accused Of Snubbing Kristen Taekman From Her Birthday On 'RHONY'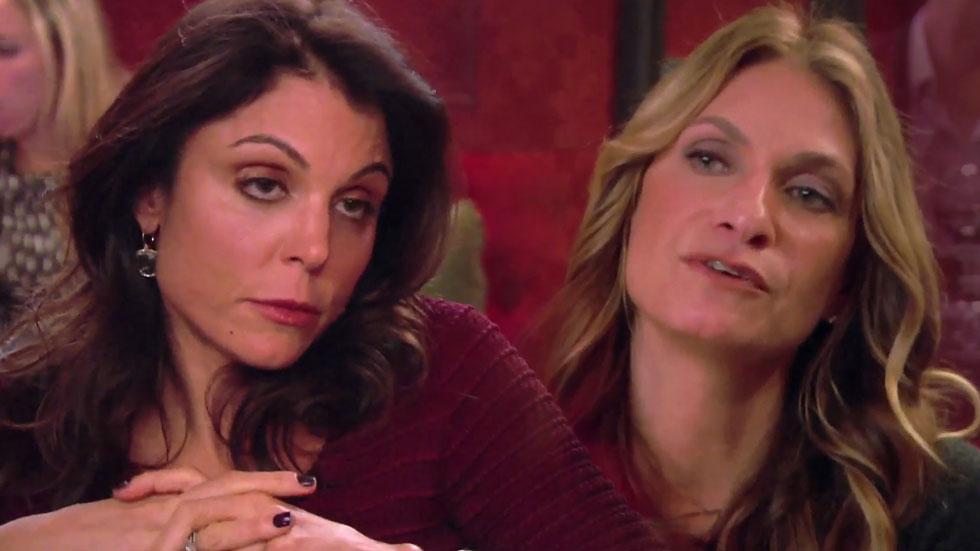 Bethenny Frankel sparred with Heather Thomson on Tuesday's Real Housewives of New York, accusing her of purposely excluding Kristen Taekman from her 44th birthday bash.
When Thomson told her about the birthday bash, Taekman asked, "Why wasn't I invited? You just named everyone's name but mine. We all met at the same time."
Although the model claimed she wasn't "losing sleep over not being invited," Thomson confronted the Skinnygirl mogul when they went out to dinner with Carole Radziwill and Dorinda Medley.
Article continues below advertisement
"I spoke to Kristen Taekman the other day, and her feelings were hurt that you didn't invite her to your birthday," Thomson told Frankel.
The mother-of-one cut her off by firing, "Oh my God -- are you really bringing this up? I just fell asleep. Wake me up when this is over."
As Frankel called the jab "ridiculous" and pretended to sleep, Medley -- who was also rejected from the bash -- came to Thomson's defense by saying that she was upset as well.
Frankel yelled at the show's new girl, "I don't even know you! What are you talking about?"
But Frankel's aloof response wasn't the only shocker of the evening for Thomson -- as Frankel confessed that she didn't even invite her!
"I hung out with Carole the night before and we were connecting and I said, 'You want to come tomorrow night?'" Frankel explained. "Then I said, 'Do you want to invite your friend?' And you came."
Article continues below advertisement
When Thomson asked if she was Radziwill's plus one, Frankel replied, "Kind of, yeah."
"What a b*tch!" Thomson said in her confessional.
Watch the video right here on RadarOnline.com
Also on Tuesday's show, fans got more insight into the estranged relationship between Medley's daughter Hannah and her boyfriend John Mahdessian.
"Hannah and John don't have a relationship," she explained. "He doesn't sleep over my house. He doesn't do the things most people after two years would be doing together. I keep their two lives very separate."
MORE ON:
Real Housewives of New York
Mahdessian's tumultuous relationship with Hannah finally became too much when Medley questioned going into business with him because of how her daughter would react.
Medley's beau asked during a dinner date, "Why are you going to let her dictate your life? You really think that's smart?"
Medley responded, "Worry about your life. I'll worry about my daughter. You got nothing to do with it."
When Mahdessian told her to "have another cocktail," she replied by asking, "What else is there to do? We're just sitting here."
Article continues below advertisement
Mahdessian answered, "Call your daughter."
His response set Medley off on a profane rant, showing viewers that she isn't one to mess with!
"You bring up my f**king daughter again and I'll rip you a new f**king a**hole," she yelled. "You get it? Back that sh*t up and you back it up quick!"
But not all of the housewives had trouble in paradise, as Radziwill revealed that she has a new love interest -- the 29-year-old ex-boyfriend of LuAnn de Lesseps' niece!
"When you connect with someone spiritually or emotionally, the question of age becomes increasingly irrelevant," the author explained as the two got flirty while playing ping-pong. "So it's all good."