Exclusive
Zac's Second Act! Efron 'Ready For Career Comeback' In 'High School Musical 4' After Booze & Drug Battle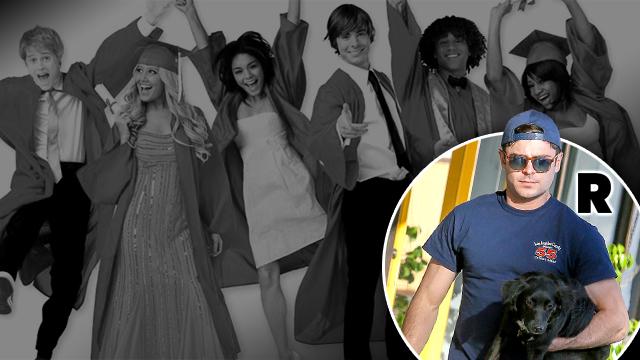 It's been seven years since High School Musical star Zac Efron last reprised the role that made him a movie star. Since then, the 27-year-old heartthrob has done nearly a dozen movies while at the same time battling serious demons. Now, RadarOnline.com has exclusively learned that Efron has finally managed to clean up his act, and is ready for a huge career comeback in the much-anticipated High School Musical 4.
Article continues below advertisement
"High School Musical 4 is much more than just an idea," an insider confirmed to Radar. " lthough there have been rumors for the past several years that it is definitely happening, it was not a possibility until Zac overcame what his friends are calling his 'dark period.'"
One reason for the delay in the film, said the source, was because the director, Kenny Ortega, told Disney executives that he "would only do the film if Zac Efron and Vanessa Hudgens were brought back as the leads."
In 2013, Efron discussed the possibility of doing the film and said in an interview, "I can't say for sure if it will happen but deep down in my heart, I would jump at the chance."
However, the following year would prove to be challenging for Efron, as the hunky Parkland actor entered rehab for substance abuse.
"I was drinking a lot, way too much," he later told The Hollywood Reporter, alluding to the fact that drugs were possibly involved too.
Article continues below advertisement
"It's never one specific thing," he said. "I mean, you're in your 20s, single, going through life in Hollywood, you know?"
Acknowledging his downfall, Efron also insisted that he is recovered and a said, "Everything is thrown at you. I wouldn't take anything back; I needed to learn everything I did. But it was an interesting journey, to say the least."
According to the source, those close to Efron believe he's ready for a comeback.
"Zac is beat his demons and finally has got himself together," the source said. "When Zac was down in the dumps, Kenny Ortega was there for him every step of the way. Now that he has seemingly beaten the battle, Zac says he is ready to reprise his role in HSM4."
"Kenny loves Zac like a son and believes that it would be really good for him to do this film (by brantley here). It would remind Zac of where he came from and he would be surrounded by love and people who will always have his back."
Would you like to see Zac Efron and Vanessa Hudgens star in another High School Musical film? Let us know your thoughts in the comments below.