Exclusive
Prison Besties! Teresa Giudice's Cellmate Ran A $30 Million Telemarketing Scheme — Bonding Over Fraud?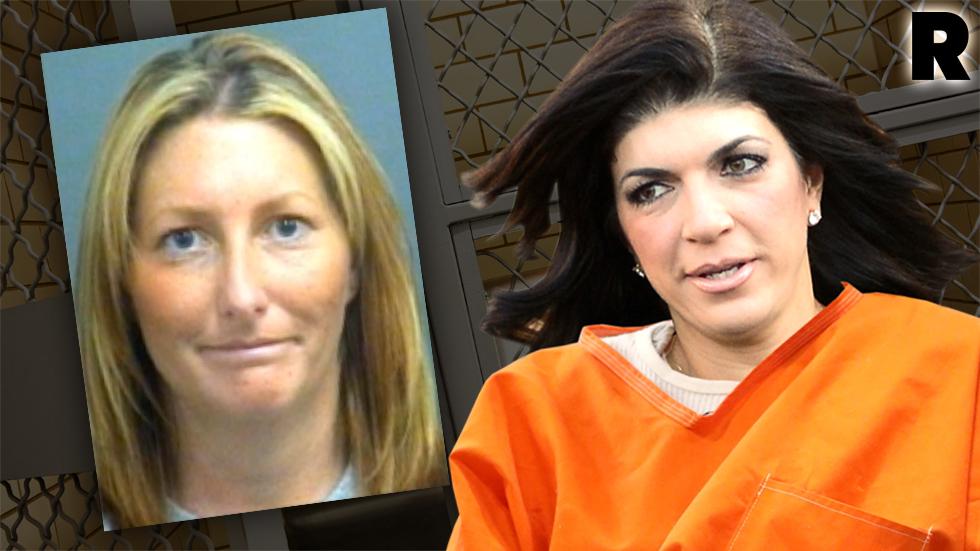 Teresa Giudice is a convicted felon, but her crime is small time compared to her cellmate's. RadarOnline.com has learned that Giudice's new prison bestie is serving more than 15 years in prison for a $30 million fraud scheme!
Giudice is sharing tight quarters with a woman named Jennifer Kirk, 34, who is currently serving her third year of a more than 15-year sentence at the all-female Federal Correctional Institution in Danbury, Connecticut after bilking 22,000 unwitting victims out of more than $30 million!
Article continues below advertisement
According to reports, Kirk spearheaded a telemarketing scheme along with her late boyfriend Matthew Hicks called Universal Marketing Solutions that went from four employees to nearly 300 with nine locations across Florida. When Hicks died of a heroin overdose in 2007, Kirk changed the name to Creative Vacation Solutions and within two years she was cheating people out of their money in all 50 states, Puerto Rico and Canada.
Kirk, who grew up just an hour south of Giudice in Howell, NJ, credited her success to employing people who she thought were just the right fit for the scam.
Krik hired employees from drug rehab centers because "substance-abuse addicts were the best liars in the business because they had lied to family and friends for most of their adult lives," federal prosecutor Stephen R. Wigginton told CNBC.
Employees only had to "lie and cheat" and there was no limit to the amount of money they could make, said investigators. And the three-step scamming process made Kirk's scheme seemingly seamless with an "opener," "closer" and "customer service."
Article continues below advertisement
The opener would try to convince a timeshare owner to sell their property using an illegally obtained call list.
The closer would tell timeshare owners that a buyer was waiting in the wings, but the company needed a $1,500 to $3,000 fee to seal the deal – a figure that the seller would supposedly get back within 30 to 60 days.
Once the credit card numbers were there for the taking, Kirk's company would have the so-called customer service department stall sellers' requests for reimbursements with a "log of lies."
EXCLUSIVE DOCUMENTS: Joe & Teresa Giudice Indicted On MORE Fraud Charges — Read Them Here!
Reports indicate that 36 telemarketers have already been convicted, and in June 2011, Kirk pleaded guilty to conspiracy to commit mail fraud and wire fraud.
Meanwhile, Giudice has been growing close to Kirk as she marks off the days until her own April 2016 release.
"Teresa is good friends with two girls, including Jennifer," a source told Radar. "Jennifer is Teresa's trainer behind bars. She's helping her stay in shape."