'Teen Mom' Epic Feud Continues: Farrah Abraham Calls Catelynn Lowell 'White Trash,' Other Costars 'Fake'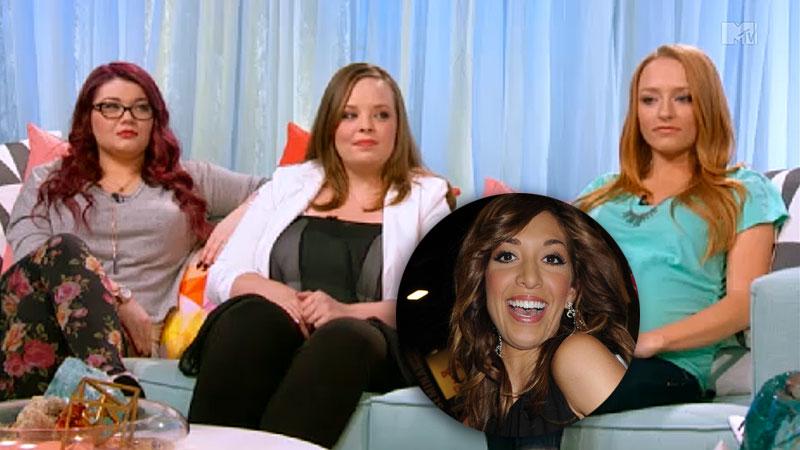 After kissing and making up on Couples Therapy last summer, it seemed Teen Mom OG stars Farrah Abraham and Catelynn Lowell were on the path to mending their broken friendship. But now, the battle is back on and bigger than ever.
After last week's premiere episode of the MTV hit reality show, Abraham refueled the fire by retweeting a fan's cruel remark that Lowell shouldn't be on the series because she placed her daughter Carly, 5, with an adoptive family soon after her birth.
Article continues below advertisement
On last night's Teen Mom OG after show, Abraham dissed Lowell again!
As the new mom of Novalee, 3 months, talked to host Nessa about ending her feud with Abraham, the erotic novelist began to laugh backstage.
"There's somebody still in denial," she snickered to producers. "Still in denial land of white trash!"
After Lowell, Maci Bookout and Amber Portwood left the stage, Abraham walked on alone— and had plenty more shade to throw at all of the girls!
"From the past I never initially got along with the girls. They had some other issues with myself from the get-go…I would never confide in them," she said.
"Would I ever confide in people who are very fake and not real with themselves and kind of in denial and can't empathize with someone? Of course not!"
Lowell, Bookout and Portwood just shook their heads backstage.
"She just burned bridges with everybody. What an idiot," Portwood said.
Later, the three women gave Abraham the cold shoulder as they passed each other in the MTV studio's hallway. Brrr!
Are you on Team Farrah, or Team Catelynn, Maci and Amber? Sound off in the comments.