'Teen Mom' Feud Back On: Farrah Abraham Slams Catelynn Lowell, But Fiance Tyler Baltierra Fights Back!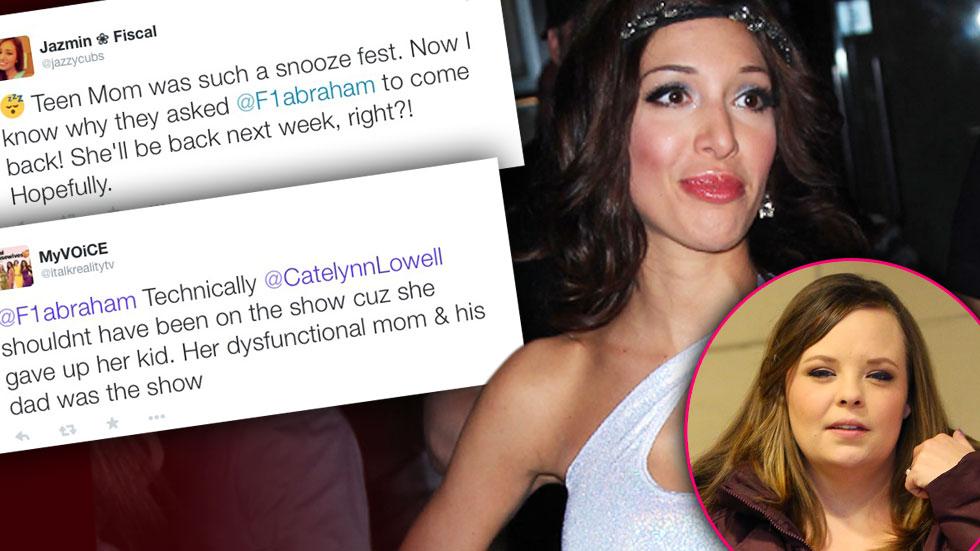 Farrah Abraham and her Teen Mom costars Catelynn Lowell and Tyler Baltierra may have kissed and made up last summer after a long-standing feud, but now the former friends are throwing shade once again.
Abraham, 23— apparently upset that she didn't appear on the Teen Mom OG season premiere last night— instigated the fight by retweeting controversial and offensive posts from fans.
"Technically @CatelynnLowell shouldn't have been on the show cuz she gave up her kid," she retweeted. (New parents Lowell and Baltierra, both 23, famously placed their daughter Carly with an adoptive family after her 2009 birth.)
Article continues below advertisement
She then went on to retweet posts about the premiere being a "snooze fest" and "boring."
The outspoken Baltierra didn't seem to appreciate Abraham knocking his fiancé and the difficult decision they made as teens.
"Hiding your opinion through retweets does nothing but make me laugh even harder at the delusional state of your mind," he snapped, obviously referring to Abraham.
The notorious sex tape star's costars Amber Portwood, 24, and Maci Bookout. 23, are likely angry with her as well, though they've stayed mum on social media.
"Why does Maci complain about @F1abraham being on #TeenMom but okay with drug addict and felon being on the show? #hypocracy," Abraham retweeted, referring to Portwood's 17-month prison sentence for drug-related issues. (Portwood was released in November 2013 and now claims to be sober and happy.)
Should Farrah stop lashing out at her costars on Twitter? Sound off in the comments.