'Maybe He Was Conning Me The Whole Time': Phaedra Parks Reflects On Broken Marriage With Apollo Nida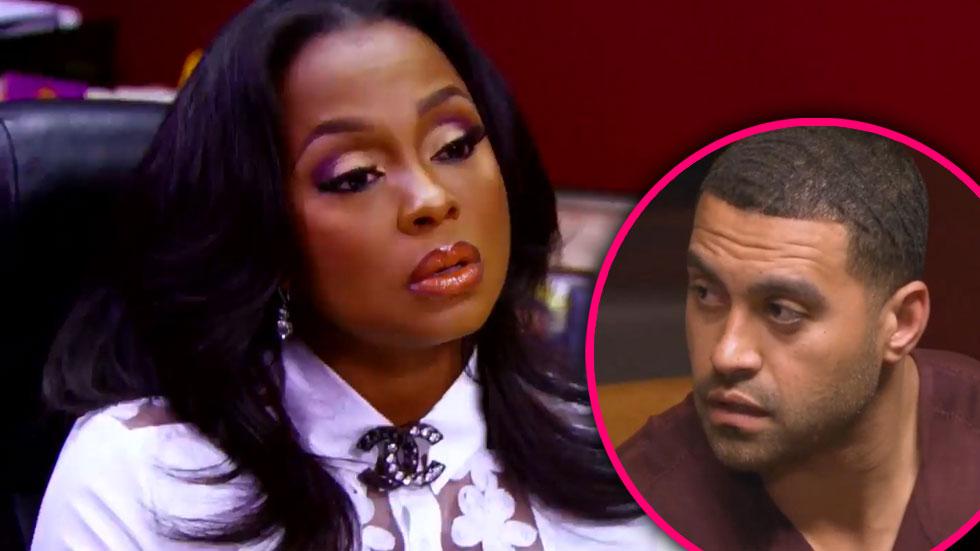 Phaedra Parks said that her estranged jailbird husband Apollo Nida's ultimate con may have been on her, on Sunday night's The Real Housewives of Atlanta.
But it was an emotional trick, rather than a financial one, as viewers learned Parks had a strong prenuptial agreement in place.
During the episode, Parks sought advice from top Atlanta lawyer Ronne Kaplan on how to divorce Nida, who went to prison for bank fraud and identity theft.
Article continues below advertisement
During the emotional meeting, Kaplan asked Parks (herself an attorney) the obvious question: Why did she married Nida, who had already been behind bars before his most recent stint.
Even knowing Nida's past, Parks sighed, "I married him because I thought he was a changed man; I married him because I knew that he loved me.
"Some people do change their lives and make a difference and I thought he was that person, but obviously he wasn't. I stayed with him when people said I shouldn't. I loved him.
Parks said she'd "believed that he wanted to be someone different," sadly noting, "I chose to believe him and maybe he was conning me the whole time."
Watch the video on RadarOnline.com
The housewife told Kaplan that Nida had told her before reporting to prison that he wanted a divorce and that she wanted to make sure her interests were protected.
The attorney noted that the couple's prenuptial agreement "looks airtight.
Article continues below advertisement
"Financially, you each walk away with whatever you had and whatever you earned during the marriage."
But her lawyer said the couple's two young sons were the big issue, and told her bluntly, "They need to have as much contact as possible with their dad."
Parks said she wanted "to make it possible" but the federal prison in Kentucky where Nida was serving his eight-year sentence was hours away, which meant she'd lose money taking time off work.
Her legal eagle agreed, but said she should "go once or twice to see how the kids do."
Parks told the cameras about little Ayden and Dylan, "I'm not going to put them in a room full of killers because one person wants to feel better about his position."
She also claimed Nida had changed into a mean-spirited party animal during their five-year marriage.
Kaplan said they could pursue divorce even though Nida was in jail.
MORE ON:
Real Housewives of Atlanta
Article continues below advertisement
But she suggested to Parks they proceed slowly, and she has apparently followed that advice -- as RadarOnline.com has reported, the housewife has yet to officially file for divorce.
Earlier on the show, however, viewers learned more about Parks' marital hell as she discussed it with friend Sarah Jakes, daughter of the famed minister T.D. Jakes.
The two friends bonded, as Jakes had also suffered through a bad marriage.
"I wanted to be the perfect wife … he would do anything to be mean and hurtful to me … every day was madness," Parks sobbed to Sarah.
Parks claimed she had fully supported Nida through his legal woes (although he publicly accused her of abandoning him).
But she told Jakes with Nida put away, she could finally sleep knowing he wouldn't kill himself or anyone else.
Sunday's episode also showed NeNe Leakes storming out of the therapy session with her co-stars.
Article continues below advertisement
Although therapist Dr. Jeff Gardere tried to get Leakes to stay, the offended diva took off after the other housewives had dissed her.
She accused Dr. Jeff of "taking sides," and roared off in her SUV.
Dr. Jeff returned to the group and asked them to finish the session without Leakes.
The ladies recalled painful incidents from their past and then Kenya Moore talked about her bad history with Porsha Williams, which culminated in Williams physically attacking her last year at the reunion.
Williams talked about how more recently, Moore had accused her of sleeping with a married man.
Claudia Jordan apologized for bringing the topic up in the first place, and Moore apologized to Williams and told her she wanted to move forward.
The ladies also decided to send Leakes a video talking about how the group therapy had helped them.
Meanwhile, Leakes was reading her lines for Cinderella two weeks before her Broadway debut as the wicked stepmother, and told husband Gregg she felt she'd apologized to the other women enough!
At the end of the episode, Jordan and Williams decided all the housewives should take a bonding trip to the Philippines to build on the group therapy.