Exclusive
Boxes & Boxes Of Chocolate Donuts & Chicken Nuggets! 'Biggest Loser' Hopeful Mama June Shannon's Horrifying Diet Exposed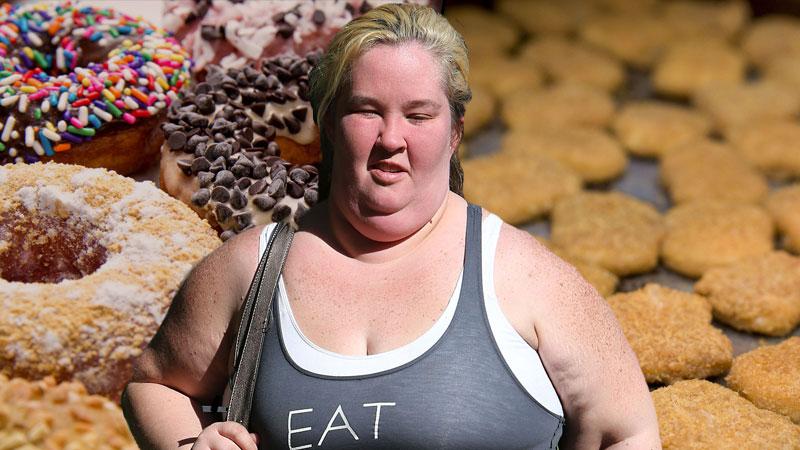 Mama June Shannon is working out with a celebrity trainer and reportedly even trying out for The Biggest Loser— but the reality star's former brother-in-law, Lee "Uncle Poodle" Thompson, doubts she'll stick with her sudden health kick.
"If she's serious about it, then good for her," Thompson exclusively tells RadarOnline.com. "But she never stays on diets for long; she gains the weight right back. She doesn't eat in moderation."
Article continues below advertisement
The former Here Comes Honey Boo Boo matriarch, 35, who regularly prepared meals such as sketti, or noodles drenched in butter and ketchup, for her brood on the family's cancelled TLC show, has been wolfing down junk food in enormous portions for years.
"She can eat about three boxes of chocolate-covered donuts in a day," Thompson, 32, reveals. "She orders four 20-piece Chicken McNuggets from McDonald's and eats as many as possible."
"She's not healthy and never has been."
Shannon's health seems to be suffering as a result of her poor eating habits.
"She says she is sick all the time," Thompson explains. "She sleeps all day and stays up all night when she's not working."
Just last week, the mother of four and grandmother of one was hospitalized with pneumonia.
Her kids also seem to mimicking their mother's shocking diet. Earlier this month, The Doctors' host Dr. Travis Stork called Shannon's 9-year-old daughter Alana "Honey Boo Boo" Thompson "obese" and at risk for life-threatening diseases.
Should Mama June star on The Biggest Loser? Sound off in the comments.