Wendy Williams Eats Mama June's Famous Sketti & Chunky Pork And Beans: 'Tastes Like Home!'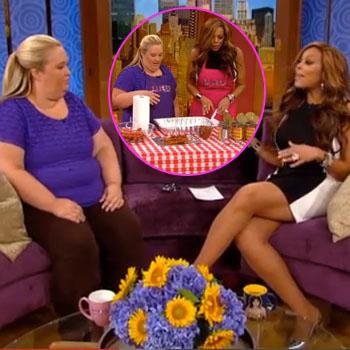 Here Comes Honey Boo Boo matriarch Mama June appeared on The Wendy Williams Show Wednesday and not only talked about her love of Keds sneakers, her 100-pound weight loss and her run-in with Miley Cyrus, but also cooked up some of her famous sketti and chunky pork and beans.
June, 33, revealed that all the girls go to public school and Honey Boo Boo will be going into third grade, and they tape the show Wednesdays through Sundays, leaving little time for pageants — and RadarOnline.com has the video.
Article continues below advertisement
"It gives the kids a more better future like, whenever they get older," June told Wendy of the Here Comes Honey Boo Boo success.
"And I'm able to take the kids on vacations and see parts of the world they never have been able to see before."
But June said she doesn't spoil the girls and even has special bank accounts set up for them.
"I don't see that money. What it is, I've got it set up to where they automatically go in to all five accounts, the four girls and the grand baby, and they can't touch it until they're 21," she explained.
And if you think Mama June gets star-struck with her new fame — you're wrong. She recently met Miley Cyrus, and didn't even know it!
"This may sound bad on my part, but because it was so crazy at Good Morning America, Miley's like, 'Oh my god, there's Mama June!' and she came up and hugged me because it was so fast, I didn't realize it was her until after she walked by!"
But the highlight of June's appearance on Wendy's show was watching her make her famous sketti and chunky pork and beans dishes, which Wendy said "tastes like home."
Check it out below to see Honey Boo Boo's special message to Wendy…
youtube=https://www.youtube.com/watch?v=L9tpbbZGQsY&w=560&h=315