'Long Island Medium' Fakery! Newspaper Article Reveals Shocking Truth About Reality Show's Filming Process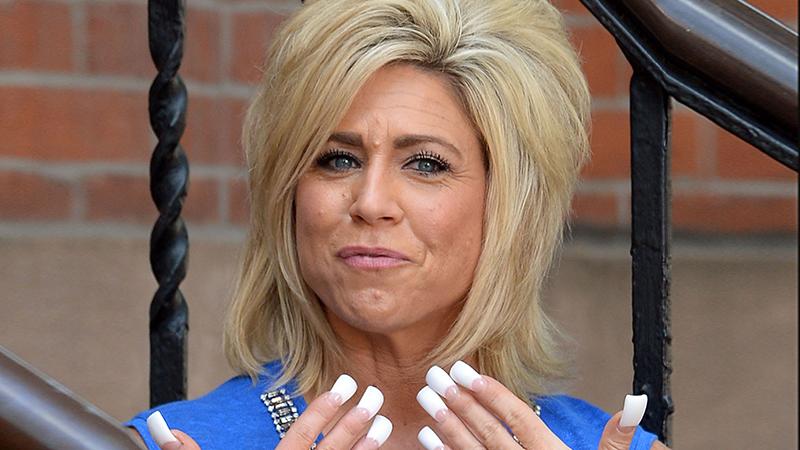 Long Island Medium star Theresa Caputo has been accused of faking readings with clients. But it seems she's also been pulling a fast one on fans of her TLC reality show!
On the series' 7th season premiere, the self-proclaimed "medium" and her college student daughter, Victoria, seemed to spontaneously stop by Garden City, New York tea store A New Leaf on their way to zip lining. But according to the Long Island Herald, the tea outing was planned months in advance!
Article continues below advertisement
An article in Caputo's hometown paper states that the production team called A New Leaf owner Kimberly Orlic last August to request permission to film inside the shop.
"I was asked to sign a nondisclosure agreement before I knew the show's name, and soon after was told the name but wasn't told any date," Orlic says. "They said, 'We saw your shop and think it's a great location to shoot a TV show.'"
MORE ON:
Long Island Medium
In line with Caputo's diva behavior, Orlic and her employees were not given a filming date until the day before they arrived.
Though Caputo and her daughter's tea date seemed to last only minutes, the crew actually filmed for a shocking six hours.
And the employees, who acted surprised to see Caputo, were prepped like actors.
"They had to make everybody up," Oric adds.
At one point, customers and even employees were kicked out of the shop for an hour while the 48-year-old reality star gave a reading to a woman named Martha, who lost her husband during the September 11 attacks in New York City.
Despite the long hours of directors, producers and camera crews, Orlic insists she enjoyed her unexpected, unusual day.
"It was a really cool experience and lots of fun to see it happen from the back end," she says.