Exclusive
Round Two! Blac Chyna Slams Kylie Jenner In Heated Feud Over Tyga — The Latest Diss Revealed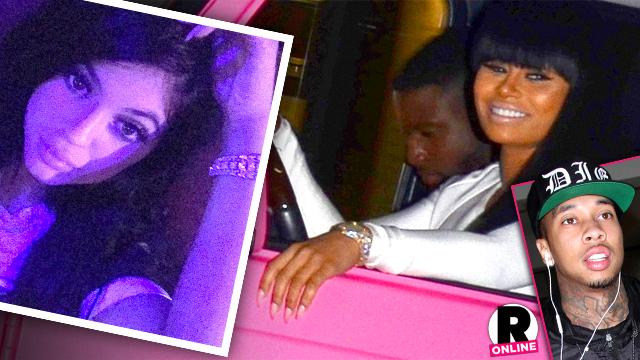 Blac Chyna took her fight with Kylie Jenner to the streets last night in Los Angeles! After a week of subtle shade-throwing between the two attention-hungry divas on Instagram, RadarOnline.com has learned that their feud is no longer just an online battle.
While driving her hot pink Mercedes G-Wagon in Los Angeles on Sunday, Blac Chyna was asked by a group of photographers whether or not she was still wearing an expensive watch given to her by her estranged ex, Tyga, who is also the father to her one-year-old son, King Cairo — and Jenner's current man.
Article continues below advertisement
Although Blac Chyna did not say a word when asked about the Jenner watch drama, she let the watch speak for itself by dangling her arm out the window and allowing the timepiece to be photographed.
As RadarOnline.com previously reported, the watch has been at the center of a feud between the two ladies. Long rivals for Tyga's affections, they took their anger public on March 23 when Blac Chyna shared a photo of herself on Instagram sporting the watch given to her by Tyga shortly before they split in 2013.
Then, 17-year-old Jenner fired back by posting a photo of herself wearing a very similar and equally blinged-out version, along with a caption that read, "Currently."
After Jenner attempted to call a truce in a final Instagram post that said, "I am done now," Blac Chyna has clearly let her know that the feud is as alive as ever.
Your move Kylie!
How do you think Kylie Jenner should respond? Let us know in the comments below.
Watch: Tyga says he's Not Sleeping With Kylie Jenner