Exclusive
Kylie Jenner Tells Family She 'Wants To Marry' Tyga & She's Flaunting New Diamond Ring!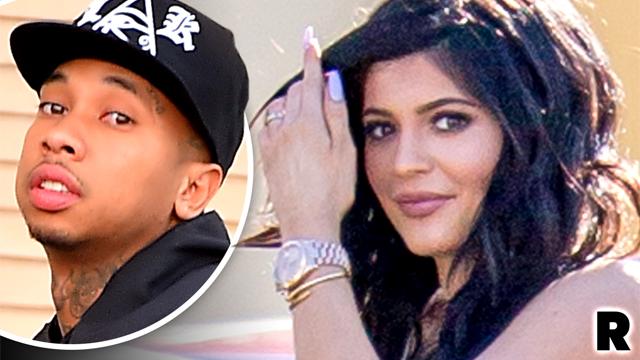 Kylie Jenner brought home a special souvenir from her recent romantic getaway with Tyga — a brand new diamond sparkler on her ring finger!
Now RadarOnline.com can exclusively reveal that the two are determined to make their dreams a reality. "Kylie and Tyga are discussing marriage!" a Keeping Up With the Kardashians source reveals.
"Kylie has asked her sisters what they think of getting married at a young age because it is something that she'd been talking about with him," the insider tells Radar.
Article continues below advertisement
"Obviously, her sisters have told her that they support her in whatever she wants to do. They cannot tell her that it is wrong because they were all monogamously coupled at extremely young ages."
As Radar previously reported, the couple, who are rumored to have started dating when Jenner was only 14 years old, recently went public with their relationship when 25-year-old rapper dropped the L-word when discussing his now 17-year-old partner.
"Those girls do not like to be without a man and if Kylie wants to marry Tyga, so be it," the source says.
"Her sisters are just really happy that she has found true love and he treats her like gold," continues the insider. "They also really like that she will not be hopping from guy to guy and getting her heart broken like they have all had to experience."
At the end of the day, "her whole family would much rather see her who loves her rather than be with many men who will only use her for their own gain."
Do you think that Kylie Jenner should marry Tyga? Let us know in the comments.
Watch: Kylie Jenner and Tyga serve meals to the homeless