Secretly Dating At Just 14? Kylie Jenner Flirts, Dances With Now-Boyfriend Tyga In Shocking 2011 Video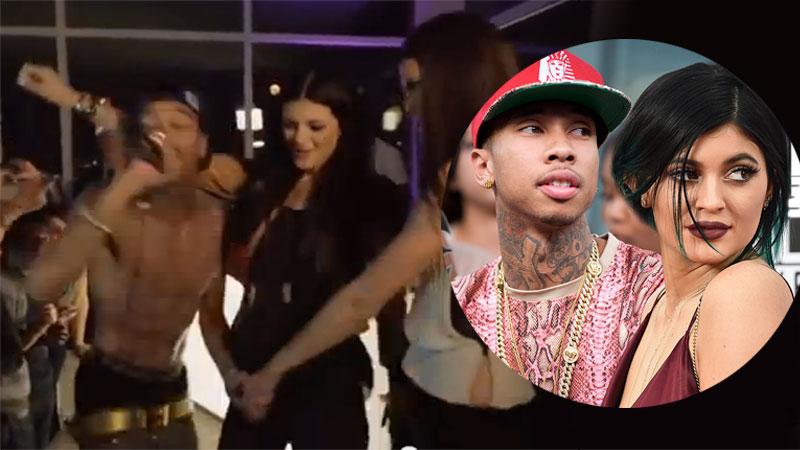 Kylie Jenner made her debut with much-older boyfriend Tyga when he threw her a wild 17th birthday party last summer. But it seems the controversial couple knew each other for much, much longer, RadarOnline.com can reveal.
In a shocking clip from the rebellious teen's big sister Kendall Jenner's Sweet 16 in November 2011, Kylie shamelessly flirts with the then up-and-coming rapper— at just 14 years old!
Article continues below advertisement
Before Tyga, now 25, took the stage to perform at the over-the-top bash, Khloe tells him that Kendall listens to his songs including "Get Nasty."
"Make It Nasty!" Kylie corrects her sister, tossing her hair and glancing over at the hip-hop star, who was then dating stripper-turned-model Blac Chyna. (Chyna gave birth to his son, King Cairo, the next year.)
Kylie and Kendall then join Tyga on stage while he raps his hit "Lap Dance." Kylie watches his every move while she grinds and sings along to lyrics like "A** so fat I need a lap dance!"
She then starts screaming as Tyga takes off his shirt.
When the rapper grabs Kendall's hand to dance to "Far Away," Kylie quickly joins the duo, seemingly eager to impress him.
After months of dating on the down low and even denying a romance, Tyga admitted he "loves" his teen girlfriend in a radio interview last week.
Could Kylie and Tyga have sparked their illicit love affair more than three years ago? Watch the video and sound off in the comments.