Get Over It! Kylie Jenner Shuns Judgmental Kim Kardashian As Relationship With Tyga Heats Up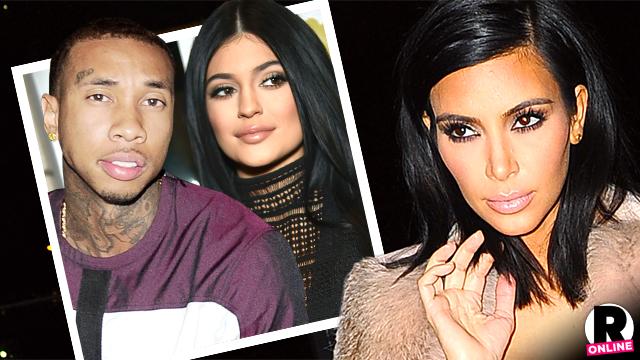 Article continues below advertisement
However, the source says, "Their relationship is starting to gain acceptance from the rest of the family."
"Tyga is really growing on the other sisters because it is becoming obvious to them that he has true intentions with her. They really take care of each other and it is not all about show."
"But Kim and Kylie have had fights about this and Kim still refuses to budge," the insider tells Radar. "It is just ridiculous because Kim puts her friendship with Blac Chyna in front of her own sister's happiness."
Although the rapper, 25, and the 17-year-old Keeping up with the Kardashians reality star have not publicly confirmed the relationship, they were first rumored to have started dating in Oct. 2014. On Sunday the youngest Jenner took Tyga as her date to a Grammy Awards after-party, where they were photographed together, along with her sisters Khloe Kardashian and Kendall Jenner.
Do you think that Kim Kardashian should just get over it and just be happy for her younger sister? Let us know in the comments.