Kenya Moore Says Phaedra Parks' Near-Physical Attack On 'RHOA' Was 'Extremely Inappropriate'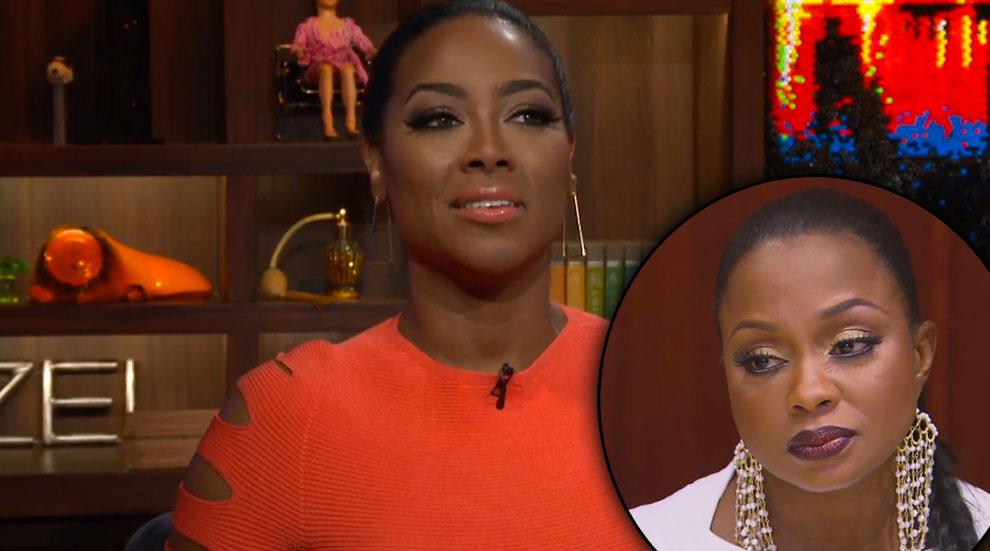 Kenya Moore, on Watch What Happens Live, said that Phaedra Parks' lunge at her during Sunday's heated Real Housewives of Atlanta was "extremely inappropriate."
As RadarOnline.com previously reported, tempers flared on the episode between the former Miss U.S.A. and the attorney after Kenya prodded Phaedra about "Mr. Chocolate," the man she claims Phaedra cheated on jail-bound husband Apollo Nida with.
Article continues below advertisement
An enraged Phaedra lunged at Kenya, marking the second time the beauty queen has been the target of a physical attack from a castmate.
Asked about her reaction in the the moments Phaedra took the fight to a new level, Kenya said, "I don't think I really had any thoughts.
"If it wasn't true, just say it was true," Kenya said. "There's never any need to resort to violence or threatening behavior and I think it was extremely inappropriate."
Kenya was asked why she believed Apollo's cheating allegations against his estranged wife, after Apollo admitted he'd lied about his interactions with her in previous episodes.
Watch the video on RadarOnline.com
The "Gone With The Wind Fabulous" singer said the main difference was that he "presented evidence" of Phaedra's illicit texts, whereas in their scandal, Apollo "never had evidence that I met him in L.A. and I propositioned him.
MORE ON:
Real Housewives of Atlanta
Article continues below advertisement
"That's the difference: He showed text messages proving that Phaedra was having an affair and communicating with someone inappropriately named Chocolate."
Kenya said the situation with Phaedra illustrated the "hypocrisy" of how she is treated by her castmates.
Watch the video on RadarOnline.com
"When I said that Apollo was lying on me ... everyone believed him," Kenya said. "And even when Apollo said that he had been lying, they still never admitted or gave me credit or vindicated me for having been lied on. In fact, NeNe said, and Phaedra said, 'Oh he's lying about lying.'
"So then why is it OK and acceptable that Apollo is somehow now lying about Phaedra, too? You can't pick and choose what lie you want to believe that Apollo has told."
Kenya justified getting involved in Phaedra's personal life, saying that all of the cast members are in each other's business as a product of being on the show.
"They certainly didn't have problem talking about me," she added.
The Real Housewives of Atlanta airs Sundays at 8/7c on Bravo.