'Apollo Is A Liar Just Like His Lie-awyer Wife': Kenya Moore SLAMS Costars Phaedra Parks & Her Husband After Sexting Scandal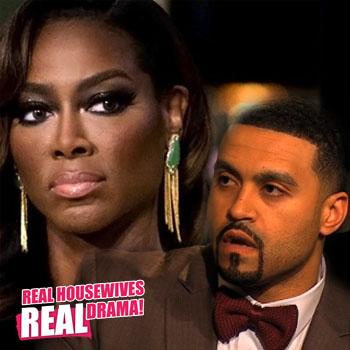 Article continues below advertisement
"The truth is I have never seen Apollo outside of the show. I've never seen him in Los Angeles or any other city. The texts also prove that. Apollo is a liar just like his lie-awyer wife," Kenya vented on her official Bravo blog.
The former Miss USA continued to slam the couple for their "slander campaign," coming to the conclusion that Apollo has plenty of secrets – and possibly an affair – that he's hiding.
"Did Phaedra learn of another woman or why he was at a different hotel than he claimed to be? Clearly their marriage is in trouble, but I'm not the issue. I was the convenient fall guy for texting Apollo back," Kenya wrote.
"The real issue is Phaedra's troubled marriage and what is Apollo really doing with other women and why he can't keep his eyes ON her. I'm not the issue. If she really wants the truth from Apollo she should threaten to cut him from her payroll, I'm sure he'll sing like a bird," she added.
The Real Housewives of Atlanta on Sunday nights on Bravo at 8/7c.