'Fashion Police' In Crisis: How Giuliana Rancic's Diva Demands Secretly Sunk The Show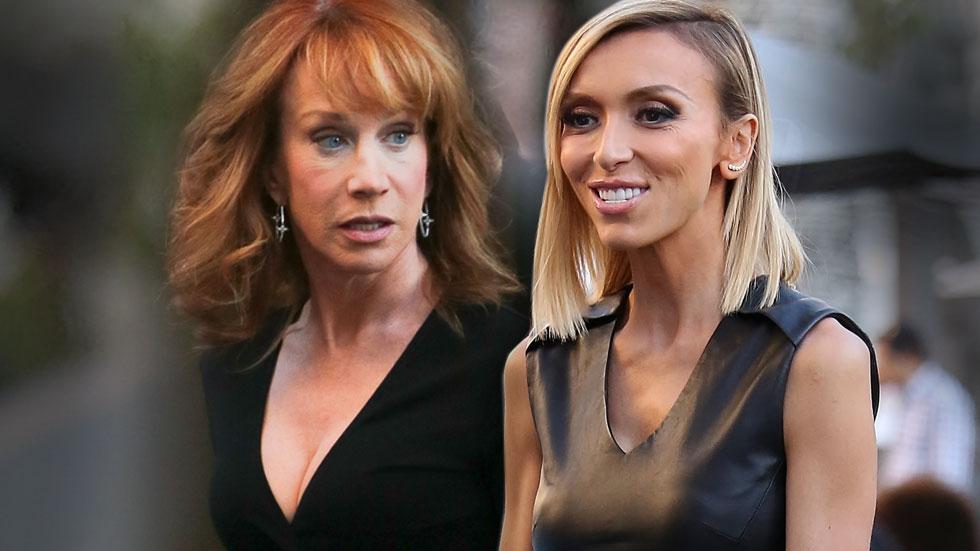 As Fashion Police goes down in flames, some have blamed Giuliana Rancic's controversial comments for the sudden implosion. But RadarOnline.com has learned that while insiders say Rancic is largely to blame for Kathy Griffin and Kelly Osbourne's departures, it was not her crass jokes but her diva behavior that sent them packing!
According to an insider, Osbourne and Griffin "couldn't deal with Giuliana's diva behavior!"
Article continues below advertisement
"Giuliana's entourage of a stylist, make-up artist, and assistant, plus her constant need for attention, were absolutely stunning to Kathy," the insider told Radar. "Kathy is extremely low-maintenance, and doesn't need to pay people to follow her around all day."
"Tapings of Fashion Police were awful because Giuliana constantly needed to have her make-up re-touched," the insider revealed. "Her face was always in front of a mirror. Kathy wanted to turn it into a skit for her comedy act!"
"Giuliana was always seeking approval and compliments from the crew of Fashion Police," the source continued. "And if she wasn't being validated, there were tears. This is a grown woman, not a teenager."
According to the source, if anyone deserved the VIP treatment, it was Griffin.
"What is Giuliana's talent exactly? She interviews celebrities on the red carpet, big deal. Kathy is actually a very established and funny comedienne," the source said. "When was the last time Giuliana sold out a venue, as Kathy does when she performs?"
Article continues below advertisement
Griffin will be focusing on her road show in upcoming weeks since she quit Fashion Police Thursday night.
Admitting she was not on board with the show's "creative direction," she called out the occasional body shaming that came with the couture critiques.
"There is plenty to make fun of in pop culture without bringing people's bodies into it," Griffin said. "I do not want to use my comedy to contribute to a culture of unattainable perfectionism and intolerance towards difference."
The source explained, "Kathy just thought the environment at Fashion Police was very toxic, and felt like something from Mean Girls. It was very cliquish, and Kathy always felt like the outsider. She just didn't want to put up with it anymore, and quit."​