Exclusive
Juicy Joe Caught! Teresa Giudice Rips Into Cheating Husband In Prison Phone Call — Will She Finally Leave Him?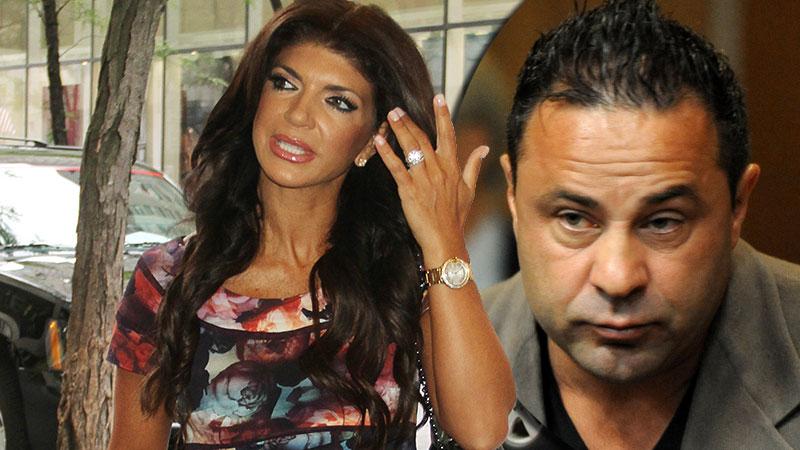 Prison bars weren't enough to keep Teresa Giudice from finding out about husband Joe's latest cheating scandal. In fact, RadarOnline.com has learned, she's already ripped into him in a "heated" phone call!
"Teresa did have a heated telephone call with Joe," an insider who spoke with her after the reports broke Wednesday told RadarOnline.com.
"But it wasn't to confront him about the cheating allegations," the source revealed." She just told him to lay low and not attract any press."
Article continues below advertisement
In fact, according to the source, jailbird Teresa has decided to stand by her man yet again.
"She is in total denial that Joe cheated on her before she went to prison," the source, who spoke to her in a phone call from Danbury Correctional Institute told RadarOnline.com. "Typical Teresa, she didn't want to talk about the cheating allegations, insisting Joe didn't do it. Teresa is saying she won't even bother to ask Joe about it and blames the haters for the whole thing."
"Even though Teresa is behind bars, she is still trying to pretend that her life is perfect, and Joe is home every night with the girls," the source said.
As RadarOnline.com reported, Juicy Joe shared a steamy hookup with blonde model and cocktail waitress Jamie Jackson in Atlantic City in November 2014, and again two weeks after that. Their flame cooled over the holidays, and as Teresa, 42, prepared to enter prison in January.
Joe insisted in a statement Wednesday, "No, I did not flirt with her. I did not make out with her, nothing happened between us."
But the source said, "They absolutely know it is true." In fact, the published photos of the pair might not be the only record of their time together.