Pow-Wow With Phaedra! Claudia Jordan Reveals 'Messy Divorce' From Husband After Alleged Cheating: 'It Was The Worst Time In My Life'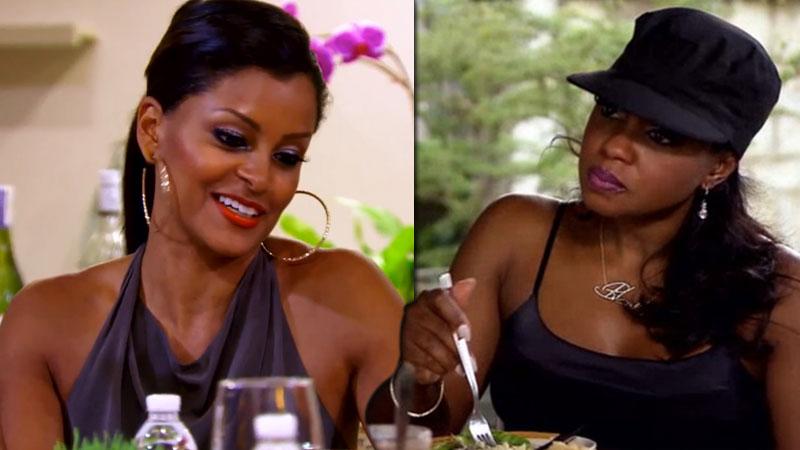 The Real Housewives of Atlanta fans are learning more and more about Claudia Jordan's troubled past.
And on Sunday's episode, Jordan, who joined the show this season, tries to bond with castmate Phaedra Parks because they've both suffered bad marriages.
While Parks' husband Apollo Nida famously went to prison for bank fraud and identity theft, during a housewives' trip to the Philippines, Jordan implies her own ex-husband had been unfaithful –​ a claim he staunchly denies.
Article continues below advertisement
Jordan, 41, tells Parks, "I know you're going through a divorce. I went through a messy divorce myself. I've been through that as well.
"I went through a major depression, I drank a lot of wine, ."
According to STAR magazine, Jordan secretly married producer Datari Turner in an impulsive Las Vegas wedding in Nov. 2009, but they split just three months later.
Although Jordan says on Sunday night's episode they had divorced, STAR magazine reported the marriage was annulled.
Whatever the case, Jordan tells Parks in the RHOA scene, "I was married briefly and it fell apart because he wasn't necessarily done with his other relationship, so it was the worst time in my life."
Watch the Video on RadarOnline:
Jordan says her husband's family had urged her not to divorce him, and then she tries to question Parks about her own marriage problems.
"I'm really not going to discuss that with you," Parks snaps.
Article continues below advertisement
The attorney explains that she is private – but did share with Jordan that her and Nida's older son Ayden was traumatized by the split.
Parks hopes her sons wouldn't be tarred by Nida's actions.
Also on the episode, fans see the gals flying to the Philippines without alpha dog NeNe Leakes, who had earlier stormed out of a housewives' therapy session.
Parks tells the others, "NeNe can't come due to her blood clotting issue. She can't get the medical clearance."
MORE ON:
The Real Housewives of Atlanta
Instead, Leakes prepares for her role as the evil stepmother in Cinderella on Broadway.
Jordan tells the others Leakes was "the cancer of the group" and was happy she wasn't there.
Later, at the Philippines resort, Parks and Kandi Burruss get foot massages together and talk about their fading friendship.
"Why does everybody feel like me and you are having issues?" Burruss asks.
Parks says they weren't talking the way they used to.
Article continues below advertisement
"I still feel a little abandoned" by Burruss, Parks later says in the confessional.
Burruss wants Parks to make up with Kenya Moore and Cynthia Bailey – but she refuses.
However, at a dinner Jordan later organizes, the former Deal or No Deal model proposes to the group that Bailey talk to Parks.
Bailey apologizes to Parks for bringing up Nida's charge and that she had cheated on him (Parks has staunchly denied his claim).
Watch the Video on RadarOnline:
Then Porsha Williams chimes in, "Where is this going?" and tells Kenya Moore, who starts talking, to hush.
The ladies begin shouting at one another, and Jordan finally tells them to shut up. She even shatters a wine glass while trying to control Williams.
"I don't have anything to say to her," Parks sneers at Bailey.
Moore says Parks always shuts people down, recalling, "I apologized to you but I didn't get the same."
Then Moore says she'd love to have a private conversation with Parks – and, to the applause of the other housewives, the lawyer agrees to it.
"I'm going to oblige her to see what she really has to say," Parks says of arch enemy Moore.