Shattered Friendship, Shattered Glass! Watch Claudia Jordan Smash Stemware During Fight With Porsha Williams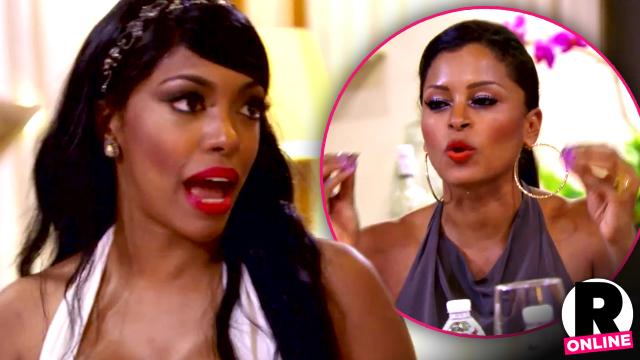 It's not an episode of The Real Housewives without some kind of fight involving a wine glass! The ladies of The Real Housewives of Atlanta join in on the series' traditional stemware shattering in the upcoming episode, as a feud erupts in the Phillipines.
In the clip obtained by Radar, dinner starts out with Cynthia Bailey apologizing to Phaedra Parks for bringing up her divorce. Claudia Jordan, acting as the mediator, asks Parks if she would like to respond, but she declines.
Article continues below advertisement
In the middle of the serious back and forth, Porsha Williams cracks up laughing, and this sets Jordan off.
"Don't laugh," she says. "This is serious."
But Williams is not having it.
"Now hold on, hold on! Let me lay this out," she shouts. "I'm very grown. And if I'm looking at Kandi and we make a giggle at each other, I'm not going to be checked because I am giggling at somebody."
"I'm not trying to check you," Jordan returns.
But she is fed up with Williams' drama.
"Oh god, here goes Porsha … " Jordan tells the cameras. "Porsha, close that mouth. Close that wide mouth and simmer down."
Unfortunately, Williams has no intention of shutting up and continues to shout as everyone else talks over her.
"It's feeling stressful," she says. "You all are definitely going backwards."
Trying to rein in all the yelling, Jordan stands up and starts beating a wine glass with a spoon, but only makes matters worse when the glass shatters in mid-air.
Clearly, Dr. Jeff's infamous group therapy session for the women didn't work!
Watch the clip here and check out RHOA on Sunday night at 8/7 central on Bravo: