Exclusive
Post-Crash Confrontation​: Devastated Calista Flockhart Demands 'No More Flying' After Harrison Ford Crash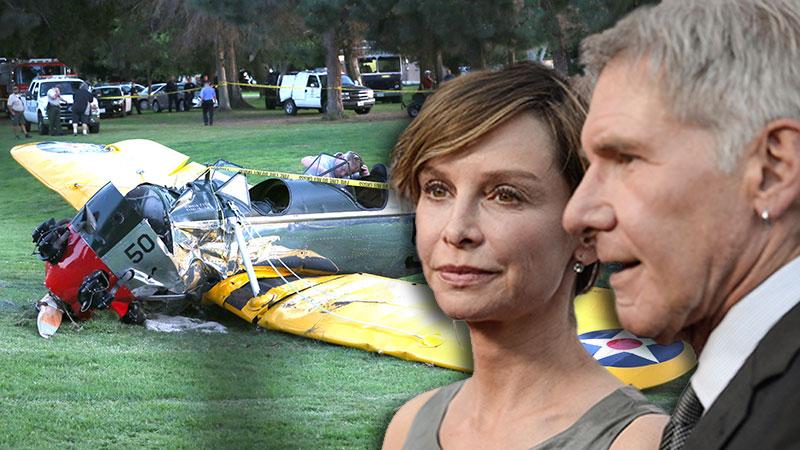 RadarOnline.com has exclusively learned that Calista Flockhart isn't mincing words about her husband Harrison Ford's plane crash on Thursday.
According to a friend of the couple, Flockhart is upset that 72-year-old Ford "scared the s**t out of all of us" but that "he's going to be OK."
As RadarOnline.com reported, Ford declared engine failure of his World War 2 plane, moments after takeoff around 2 p.m. on March 5, and he requested to return to the airport for an emergency landing. But he never made it and crashed on the green at Penmar Golf Course in Los Angeles.
Article continues below advertisement
Currently being treated at Ronald Reagan UCLA Medical Center, Ford suffered a broken pelvis, and lacerations to his face, but he is expected to make a full recovery.
Despite surviving the accident and having a good prognosis for recovery, Flockhart, 50, is "very stressed out" about her high-flying husband.
The pal tells RadarOnline.com that she was "as angry as she was worried" that he would be out there taking these kinds of chances at his age. Now, "Calista is laying it on the line with Harrison," telling him that there will be "no more flying."
This isn't the first time Ford has given loved ones a fright. Last summer, he broke his leg on the set of Star Wars. Flockhart had a similar reaction to the accident, telling her pal that he was "pushing his physical limits beyond what a man his age should be doing."