Intervention Secrets Revealed! Bobbi & Nick Fought Before Tub Incident, Went To Rehab Three Times Together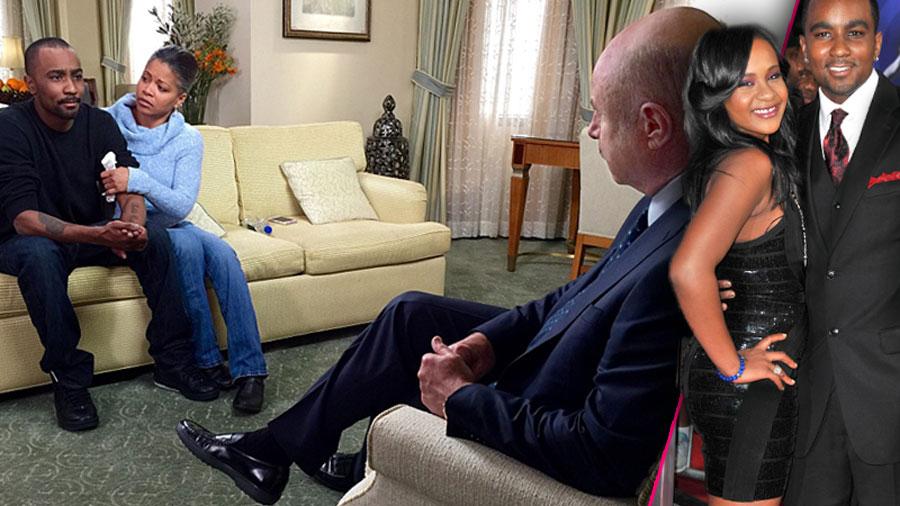 During a dramatic interview with Dr. Phil that was broadcast Wednesday, Nick Gordon's mother laid bare the secrets of what really happened in the final hours before Bobbi Kristina Brown was found unresponsive in her bathtub.
The confirmation that the couple fought that morning is just one of several startling revelations from Dr. Phil's "intervention" that occurred in an Atlanta hotel on March 5.
Gordon and Brown partied in an Atlanta club into the early morning hours of Saturday, January 31, before returning to their Roswell, Georgia, town home, Michelle Gordon told Dr. Phil. The couple argued after arriving home, she said. "Nicholas walked away and went into another bedroom to sleep" and Brown went to her room to take a bubble bath, his mother says.
Article continues below advertisement
Friend Max Lomas, who had been partying with them, found Brown in the tub while guiding a cable company technician who needed access to the bathroom, she revealed. Gordon's mother says her son did CPR on Brown for 15 minutes until paramedics arrived.
Dr. Phil shared a statement from Brown's Houston relatives saying police told them Gordon never did CPR. But, as RadarOnline.com previously reported, Gordon told friends that bruises found on Brown's body were caused by his frantic efforts to revive her with CPR.
It was also revealed that Gordon claims he tried to revive Whitney Houston with CPR after she was found unconscious in a Beverly Hills hotel bathtub three years earlier. "I think he was in his room and heard the assistant scream and he ran into the room and saw Whitney lying there," she said. "He called me when he was standing over her body saying 'Mommy, I couldn't get the air in her lungs.'"
Despite reports that Gordon was a young teen when he moved into Houston's household and began traveling with her and her daughter, his mother says it wasn't until after his 18th birthday in 2008. He had met Brown several years earlier, however, she says.
Article continues below advertisement
Gordon's mother also confirmed that her son went to rehab three times with Houston and his girlfriend, although she denied it meant he had a substance abuse problem. Instead, it was because Houston "wanted to keep them all together" when she was getting treatment, she suggested.
"From listening to my son on the phone, he never appeared to be high off of drugs or inebriated," Gordon's mother said. Dr. Phil shot back that he'd never heard of anyone "taking a posse to rehab."
Gordon's mother also revealed that her son tried to kill himself in recent weeks by taking an overdose of Xanax, but he threw up the pills after she alerted a man with whom he was staying at the time.
It became clear in the broadcast that Gordon thinks he's a celebrity and he is not fully aware of the difference between fame and infamy. "You're Dr. Phil," he said at one point to the talk show host. "You're famous like I am!"