Cover-Up? Aaron Hernandez Fiancée Claims Mystery Box On Surveillance Video Had Marijuana, Not Murder Evidence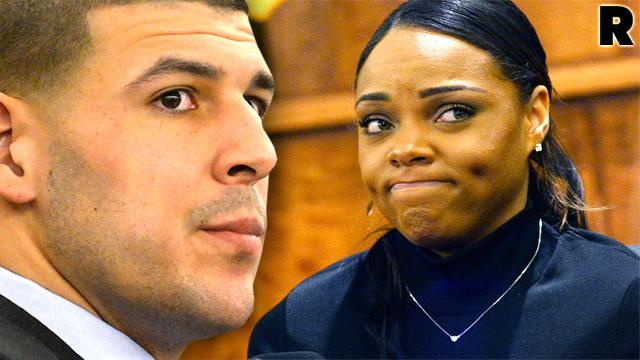 A key piece of video evidence against Aaron Hernandez was called into question Monday in court, as his fiancée testified that a mysterious box she was seen leaving their home with on the day after the murder actually contained drugs, not murder evidence.
Security camera video from inside the couple's North Attleborough mansion shows Shayanna Jenkins carrying a box out of the home the morning after Lloyd's bullet-riddled body was found on June 17, 2013, at a construction site a 10-minute drive away.
Article continues below advertisement
"Where did you dispose of it?" Assistant District Attorney William McCauley asked Jenkins Monday. She answered, "I don't remember." Jenkins then admitted that she did dispose of it in "a random dumpster." Investigators never found the box or a murder weapon.
It was under cross-examination by Hernandez's defense attorney that Jenkins claimed that the box smell like marijuauna, implying that she was getting rid of it to protect the former New England Patriots tight end from a drug charge.
His frequent use of marijuana has been a constant theme throughout the trial, including testimony by a detective that a remnant of a joint with Hernandez's DNA was found near the crime scene.
Jenkins also testified about how she "tolerated" her fiancée's infidelity and drug use. She left him once because of cheating, she said, but said she decided she "had to compromise" because the relationship was worth fighting for. Jenkins says she learned not to ask question about his late night activities.
Article continues below advertisement
Prosecutors, who have charged her with lying 29 times to a grand jury, forced her testimony by granting her immunity from prosecution for anything she revealed in court.
But she has claimed she has a fuzzy memory of the events that transpired after Lloyd's body was found when questioned in the ex-NFL star's murder trial. https://radaronline.com/exclusives/2015/03/aaron-hernandez-murder-trial-fiancee-shayanna-jenkins-cannot-remember/
She often answered "I don't remember" when asked about events the night Lloyd, 27, was shot to death.
She testified Friday that she could not remember if a gun she saw in a kitchen drawer looked like the weapon prosecutors contend was used to kill Odin Lloyd. When a black Glock handgun was placed on the witness stand in front of Jenkins, she acknowledged it was the same color and shape, but balked when asked if it was the same size. "I'm not sure," she replied.
Article continues below advertisement
Jenkins was first questioned without the jury present so Judge Susan Garsh could preview how she might answer key questions she allegedly lied about earlier. The prosecution is barred from asking her a question if they believe in advance she will not tell the truth.
After nearly nine hours on the witness stand over two days, Jenkins, 25, said "I just want to get out of this place" as she left the Fall River, Massachusetts, courthouse Monday.
Prosecutors contend the former New England Patriots tight end organized the murder with help from associates Ernest Wallace and Carlos Ortiz, who have also pleaded not guilty.
Hernandez has also pleaded not guilty to murder charges in a 2012 double killing. That trial is set for May.