Aaron Hernandez's Fiancée Could Drop Bombshell As She Takes The Stand In His Murder Trial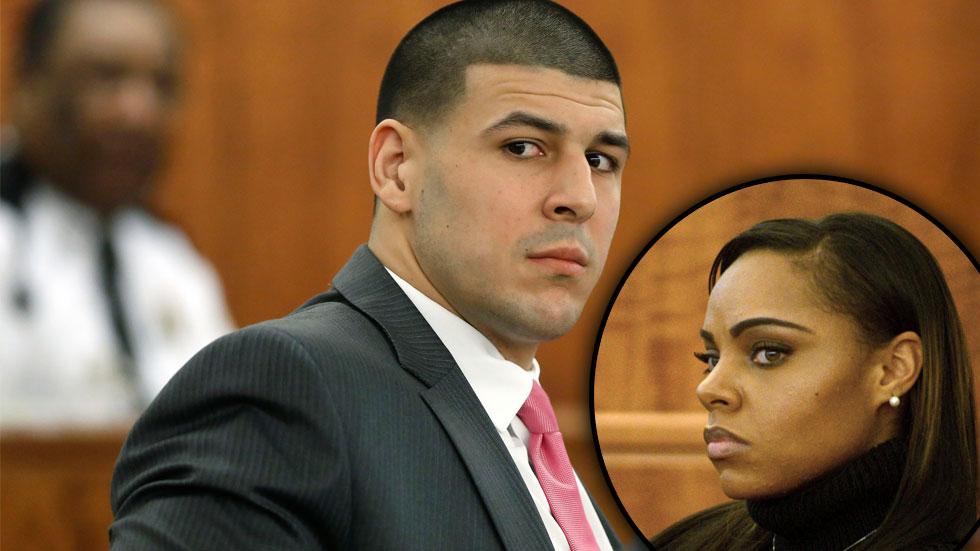 Aaron Hernandez's fiancée will testify in his murder trial Friday, and RadarOnline.com has a livestream of what's anticipated to be the trial's most dramatic moments.
Watch the livestream on RadarOnline.com, courtesy of WildAboutTrial.com
As RadarOnline.com previously reported, Shayanna Jenkins last month was given immunity by the court, meaning she cannot be prosecuted in connection with the incident, in exchange for her testimony abut it. If she doesn't talk, she could face jail time.
Article continues below advertisement
Jenkins, who has a 2-year-old daughter with the ex-New England Patriot, had previously pleaded not guilty to perjury charges, after officials said she lied to a grand jury in the initial investigation. While she was frequently in the courtroom in the early going of the trial, she hasn't been seen there since March 6.
The 25-year-old Hernandez has pleaded not guilty in the June 17, 2013 slaying of 27-year-old Odin Lloyd, who was gunned down in a North Attleborough, Mass. industrial park.
Lloyd, at the time, was dating Shaneah Jenkins, Shayanna's sister; the siblings initially introduced Hernandez and Lloyd to one another in 2012.
Prosecutors said the tight end organized the killing with the help of associates Carlos Ortiz and Wallace, who have also pleaded not guilty. Hernandez has also pleaded not guilty to murder charges in a 2012 double killing, but the judge has not allowed prosecutors from mentioning the separate charges in the Lloyd trial.