Deflategate Banned! Aaron Hernandez Trial Judge Blasts Attorney For Mentioning Patriots Controversy — PLUS Jurors Visit NFL Star's Man Cave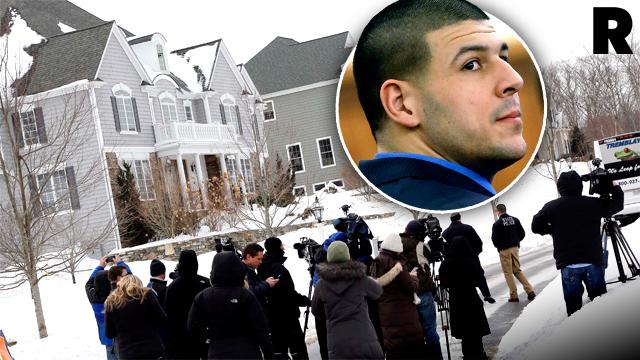 New England Patriots fans and Bill Belichick would really like the Deflategate controversy to go away in the wake of the team's Super Bowl win — and apparently, so would the judge in former player Aaron Hernandez's murder trial!
On Friday, Judge Susan Garsh chastised Hernandez's defense lawyer for making a joking reference to the New England Patriots' Deflategate controversy while questioning a witness.
Article continues below advertisement
"We are here on very serious business and I do not expect to there to be any more jokes," Judge Garsh told defense lawyer James Sultan.
"That was a mistake in judgment," Sultan said. "I apologize to the court."
The poor attempt to inject humor into the murder trial came as a Massachusetts state trooper testified about the tire pressure of car tracks found at the crime scene. Sultan asked the trooper if he had received "training in football deflation devices" — a reference to deflated footballs used by Hernandez's former team in an NFL's championship game last month.
Jurors then loaded up on a bus to personally see the four cell towers that investigators say tracked Hernandez's movements the June 2013 night he and two other men allegedly gunned down Odin Lloyd and left him dead at a construction site.
They were then driven to the construction site to see where Lloyd's bullet-riddled body was found. The next stop was Lloyd's home, where Hernandez allegedly picked him up just before the killing.
The last stop was at Hernandez's home to see the basement where the former Patriots player had a private theater, bar, pool table and smoking room. His fiancée's sister — who was Lloyd's girlfriend — testified that it was a "man cave" where Hernandez would retreat with his buddies to smoke marijuana. Lloyd was his "blunt master" who rolled the pot for smoking, according to prosecutors.
The defense promised the judge before the tour began Friday that it had cleared the house of certain items prosecutions said had been placed in the home that could improperly influence jurors. Prosecutor Patrick Bomberg said he was concerned they had followed the strategy used by O.J. Simpson's lawyers, by placing trophies and religious items in the home ahead of the tour.