Aaron Hernandez Murder Trial — Dead Man's Girlfriend Denies Ex-NFL Star Was Victim's Close Friend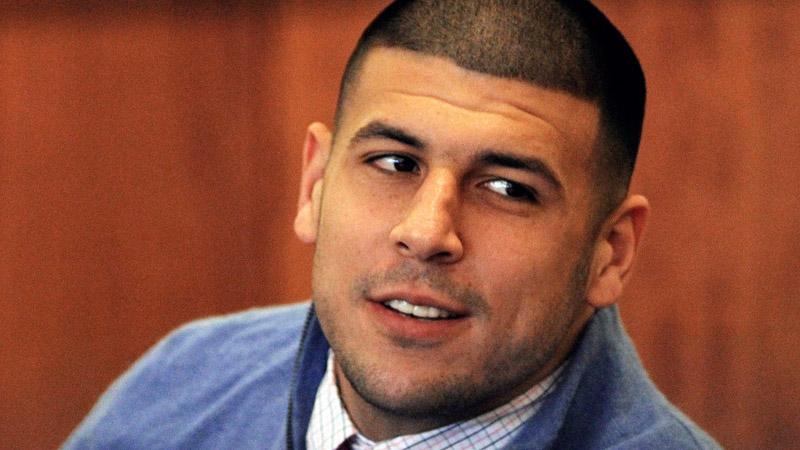 Aaron Hernandez was not the "close friend" to his alleged murder victim that his defense lawyer claims, according to testimony of the dead man's girlfriend Friday.
Hernandez, 25, allegedly murdered semi-pro football player Odin Lloyd in June 2013, and left him dead at a construction site near the home where Hernandez lived with his girlfriend and their young daughter.
Hernandez and Lloyd were in the "beginning stages of a friendship," Lloyd's girlfriend at the time, Shaneah Jenkins testified Friday.
Article continues below advertisement
Defense attorney Michael Fee told jurors in his opening statement Thursday that it "makes no sense" that Hernandez would kill Lloyd because they were friends and Lloyd provided his marijuana and rolled his blunts. "Odin was known as a 'blunt master,'" Fee said.
Jenkins, who is the sister of Hernandez's girlfriend Shayanna Jenkins, testified that Lloyd and Hernandez had only been together alone once — the weekend of the killing. "They were only really around each other when I was there, me and my sister were present," she said.
The men would party in Hernandez's basement "man cave," she claimed: "It had a pool table, TV, bar, a bedroom, bathroom, a room with some fitness equipment, and a theater room."
Fee previously argued that the men's friendship was proof Hernandez did not commit the crime. "Why would he kill his partying pal, his source of marijuana?" Fee asked in opening statements.
The prosecutor showed images of Hernandez holding what he suggested was a Glock pistol just 10 minutes after Lloyd was shot six times. He also told jurors in his opening that they would hear about a marijuana joint found near the crime scene that had DNA from both Hernandez and Lloyd.
Article continues below advertisement
The judge told jurors that the prosecution does not have to prove that Hernandez pulled the trigger on the gun, only that he "knowingly participated" in the killing and did so "with intent." The two other men involved in the case — Ernest Wallace and Carlos Ortiz — will be tried for murder separately.
This trial is expected to last three months. Hernandez faces another trial later for a different alleged double murder.
Adding to the list of woes for the ex-NFL star, he will not be allowed to watch his former New England Patriot teammates play in the Super Bowl Sunday, the Bristol County, Massachusetts, sheriff told reporters Friday.