Aaron Hernandez Trial Opens With Prosecutor Presenting DNA Evidence & Promising To Show Ex-NFL Star's 'Path' To Murder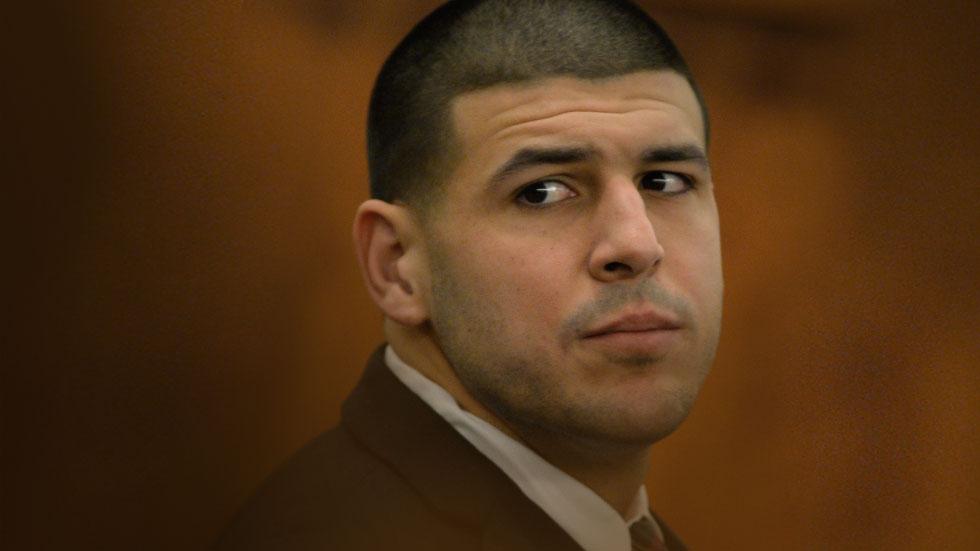 The Aaron Hernandez murder trial got off to an unsettling start today when jurors saw a photo of the ex-NFL star holding a handgun, which the prosecutor said was taken 10 minutes after the fatal shooting of Odin Lloyd.
"Odin Lloyd was shot six times," Assistant District Attorney Patrick Bomberg told jurors in his opening statement.
The Bristol County prosecutor also noted evidence collected at the crime scene included a marijuana joint, which contained DNA from both Hernandez and the victim, and a footprint that was later determined to match a pair of shoes belonging to the 25-year-old former football star.
Article continues below advertisement
The trial, which could last three months, began in a Fall River, Massachusetts, courtroom, while Hernandez's former New England Patriots teammates prepared for Sunday's Super Bowl.
Hernandez, whose last game was in the 2012 Super Bowl, "was planning a future, not a murder" in June 2013 and had no motive to kill "his friend" Lloyd, 27, defense lawyer Michael Fee said in his opening.
The prosecution theory "makes no sense" and "is not supported by the evidence you will see, hear and, if you want, will touch in this trial," Fee told jurors.
Lloyd's body was found by a high school student taking a short cut through a construction site not far from where Hernandez lived, according to the teenager who was the second witness called in the trial.
The first witness was Lloyd's boss, who testified that he learned of the killing in a call from a state trooper.
Jurors will soon take a field trip to see the luxury home where Hernandez lived and where a security camera captured the image of him apparently holding a gun at the entrance to his basement the morning of the murder. "That, ladies and gentlemen, is a Glock," Bomberg told the court as he displayed the photo.
Article continues below advertisement
While the murder weapon was never found, jurors will see video, photos and cell phone records that will "show the path" taken by Hernandez and two other men on their way to and from the murder of Lloyd, Bomberg said.
The judge told jurors that the prosecution does not have to prove that Hernandez pulled the trigger on the gun, only that he "knowingly participated" in the killing and did so "with intent." The two other men involved in the case — Ernest Wallace and Carlos Ortiz — will be tried for murder in a separate trial.
The defense also cautioned jurors to "keep an open mind" during the trial. "Give us a chance to show you the truth," said Fee. "We start here with a clean slate."
"Aaron Hernandez, as we sit here today, is an innocent man and at the end of the process that conclusion will remain the same," Fee continued.
Fee told jurors they would visit the "man cave" in the Hernandez home where the former football star would smoke marijuana with his friends, including the man he is accused of killing. It was Lloyd who supplied Hernandez with marijuana and who rolled it into blunts for him to smoke, he said. "Oden was known as a 'blunt master,'" he said.
Article continues below advertisement
"Why would he kill his partying pal, his source of marijuana?" Fee asked, pointing out that Lloyd dated the sister of Hernandez's girlfriend. If each man married his girlfriend, they would be brothers-in-law, he said.
Another reason there was no motive, Fee suggested, is because Hernandez "had the world at his feet" in June 2013 with his $40 million football contract, a nice home, girlfriend and a seven-month-old baby girl, Fee said.