Another O.J.? Prosecutor Wants Trophies Removed From Aaron Hernandez Home For Juror Tour — Sports Hero Simpson Got Off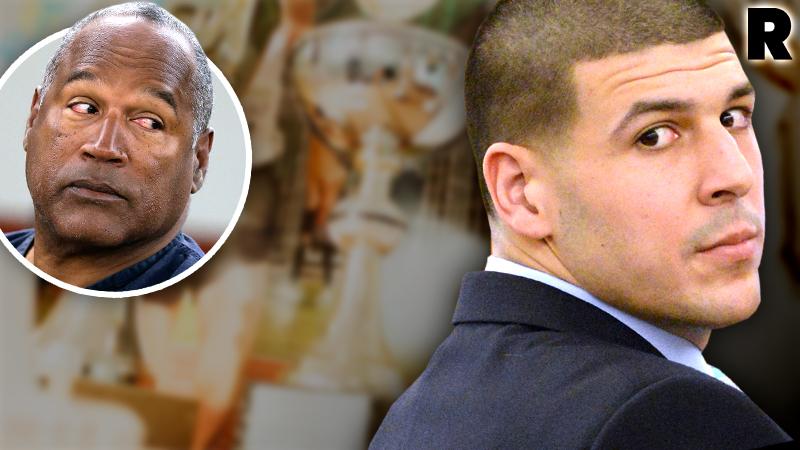 Prosecutors in the Aaron Hernandez murder trial want the ex-NFL star's trophies hidden from sight when jurors tour the accused killer's home Friday — and they claim O.J. Simpson is the reason.
Bristol County, Massachusetts, Superior Court Judge Susan Garsh previously ruled that the trophies and religious items can stay in place, but the prosecutor Patrick Bomberg argued that it could improperly influence jurors, considering the defendant was a star player for the New England Patriots.
Article continues below advertisement
Bomberg cited the O.J. Simpson murder trial, which also included a jury home tour, as support for his argument that seeing the sports honors has an impact on jurors.
Hernandez last played for the Patriots in the 2012 Super Bowl. Before his NFL career, he was a star for the University of Florida Gators football team. He also excelled in high school sports, gathering a long list of honors along the way.
Interviews with some jurors after Simpson was acquitted in the murders of his ex-wife and her friend suggested seeing the former NFL star's Heisman Trophy impressed them.
Bomberg said he suspected the defense would follow the lead of Simpson lawyers who added a Bible and family photos to the home before that jury tour in 1995. He suggested more trophies and religious items have been placed in the Hernandez home since he was jailed on charges of killing Odin Lloyd in June 2013.
Article continues below advertisement
Judge Garsh did order defense lawyers to remove anything they've recently added to the home before jurors visit.
An investigator was testifying about crime scene evidence in the Falls River, Massachusetts trial Thursday. A police captain Wednesday described Lloyd's body as "in full rigor" when he arrived at the crime scene n June 17, 2013. He noticed "bullet wounds to his chest and right flank," a ripped shirt and "flies around his nose."