Aaron Hernandez Murder Trial Gets Gruesome! Dead Man's Mom Shown Bloody Corpse Photo In Court — 'Cruel & Unnecessary?'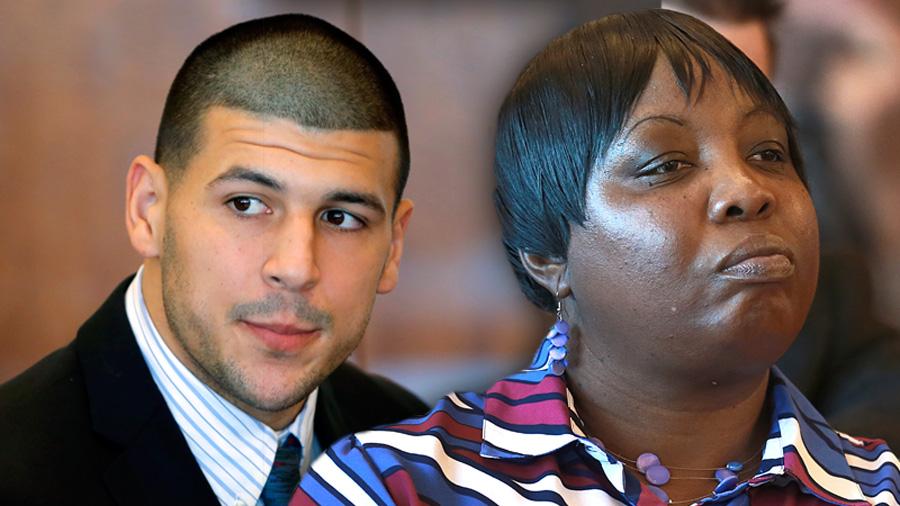 The mother of the man Aaron Hernandez allegedly killed calmly identified a morgue photo of her dead son during a brief appearance in the Wednesday.
Bristol County Superior Court Judge Susan Garsh rejected defense lawyers' argument that it "is just plain cruel and unnecessary" to show Ursela Ward a photo of Odin Lloyd on a slab at the morgue.
The judge did ask Ward to take "control of your emotions and not cry at any photo shown to you" to avoid a display that might prejudice the jury against Hernandez.
Article continues below advertisement
The image only showed Lloyd's head with his mouth slightly open as if he were smiling. "There's nothing gruesome about this. It's her son," Judge Garsh said, although she only allowed the prosecution to display it to the jury for a few seconds.
Hernandez is on trial for the murder of Lloyd, who was the boyfriend of his fiancée's sister.
Jurors also saw a short video from a security camera inside the Hernandez home recorded hours after Lloyd's body was found in a nearby construction site. The video shows Hernandez and his fiancée in a long embrace. Court documents revealed last year showed investigators suspected the fiancée helped Hernandez hide potential evidence of his involvement in the murder.
A police captain described Lloyd's body as "in full rigor" when he arrived at the crime scene n June 17, 2013. He noticed "bullet wounds to his chest and right flank," a ripped shirt and "flies around his nose."
The most dramatic testimony so far came from Shaneah Jenkins, Lloyd's girlfriend. She stood by her testimony under cross-examination by the defense Wednesday that Hernandez was not her boyfriend's "close friend," as the defense has contended. The two men were only "in the beginning stages of friendship, she said.
She testified Tuesday that the day her boyfriend was killed, Hernandez "put his hand on my shoulder and he told me he'd been through this death thing before, that it would get better with time."
The defense insisted Wednesday that "this death thing" Hernandez had "been through" was the loss of his father when he was 16.