Aaron Hernandez Murder Trial Jurors Will See, But Not Touch Glock Handgun Similar To Alleged Murder Weapon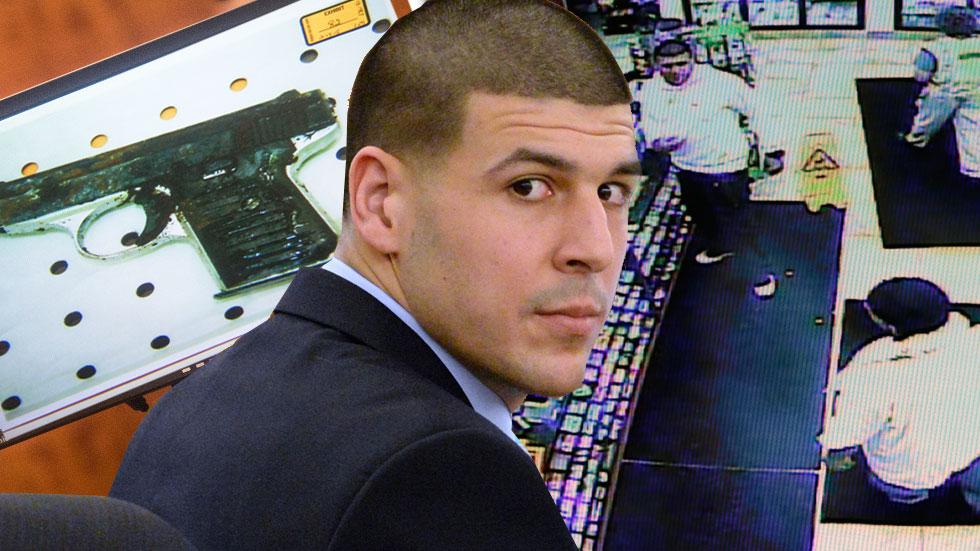 Police never found the gun that killed Odin Lloyd, but prosecutors will show jurors a .45 calibre Glock similar to the handgun they believe Aaron Hernandez used.
While the judge ruled prosecutors could bring a Glock into court, jurors will not be able to hold it and pass it around the jury box. Defense lawyers argued unsuccessfully that there is no proof a Glock has anything to do with the case.
Court papers filed in the ex-NFL star's murder trial reveal attorneys for the prosecution want to call a weapons expert who would testify that blurry security camera images of Hernandez minutes after the killing show him holding a specific Glock model.
Article continues below advertisement
Hernandez's lawyers contend the object in the former New England Patriots player's hand shown on security video cannot be proven to be the murder weapon or even a gun at all.
A Massachusetts State Police ballistics expert testified last week that microscopic markings on spent shells recovered from the crime scene and a rental car used by Hernandez matched to a specific gun, which he believed was a Glock semi-automatic pistol.
that they found a semi-automatic handgun stuffed under a mattress in Hernandez's home in the weeks before the killing.
Monday's testimony, delayed an hour by heavy snow, centered on a technical explanation of how cellular phone towers work. Prosecutors are using cell phone tracking information to show what they call the defendant's "path to murder" in the June 17, 2013, killing of Lloyd, who was the boyfriend of Hernandez's fiancée's sister.
Lloyd's sister also testified to watching a car pick up her brother an hour before prosecutors allege he was killed. Shaquilla Thibou also said she received three text messages from Lloyd shortly before he was killed, although the judge would not allow the messages to be read to the jury.
Although two friends of Hernandez are also accused in Lloyd's death, they will be tried separately. Hernandez faces another murder trial set to start in May for the murders of two men allegedly connected to a spilled drink incident at a Boston nightclub.