Deadly Match? Crime Scene Bullets Linked To Shell From Aaron Hernandez Car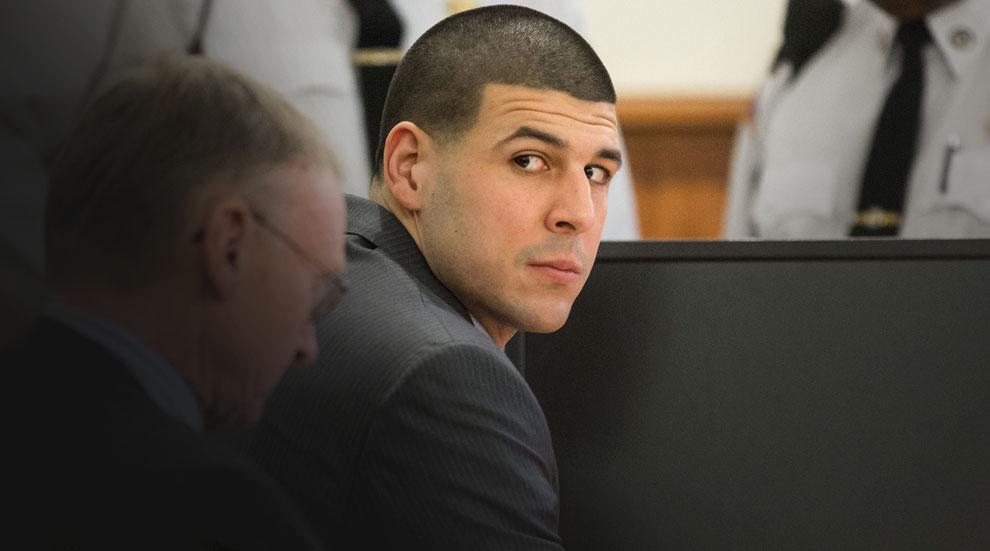 The Aaron Hernandez murder trial is heating up in ice-cold Massachusettes. Explosive new testimony on Wednesday alleged that a bullet casing found in a rental car driven by Hernandez matched five other shell casings found near Odin Lloyd's corpse.
According to an investigator, markings show they were all fired from the same semi-automatic pistol.
Massachusetts State Police ballistics expert Stephen Walsh spent more than three hours on the witness stand Wednesday explaining how investigators use microscopic markings on spent shells to match them to a specific gun.
Article continues below advertisement
Walsh concluded with "a reasonable degree of ballistic certainty" that he five spent shells found on the ground near Lloyd's body were all fired from same unknown weapon. He also determined that the sixth shell casing recovered from the rental car was fired from that gun, which he believed was a Glock semi-automatic pistol.
Defense lawyer James Sultan used his cross-examination of Walsh to suggest the expert had "confirmation bias" in making his conclusion. He expected it to match, so he made the determination despite a lack of evidence, Sultan suggested.
The murder weapon was never recovered, which makes the shell casings key evidence against Hernandez. Two maids testified earlier this week that they found a semi-automatic handgun stuff under a mattress in Hernandez's home in the weeks before the killing.
Bubble gum that allegedly carried Hernandez's DNA was found stuck to the rental car bullet, according to earlier testimony. The connection between the shell casings is powerful evidence for prosecutors to link the former New England Patriot player to the June 17, 2013 killing of Lloyd, who was the boyfriend of Hernandez's fiancé's sister.
Article continues below advertisement
But another witness said that Hernandez showed no indication that he could be about to kill a friend when he celebrated Father's Day with his fiancée and two other couples on the evening of June 16, 2013.
Vanessa Sanchez, the 26-year-old girlfriend of one of his close friends, testified that Hernandez was "having a good time" and bought a round of alcohol shots for his group as he offered a toast to fatherhood. He talked about his young daughter and claimed he planned to marry her mother soon and have even more children, Sanchez said.
Hernandez left the bar at midnight after picking up the bill for the whole group, she said. Prosecutors claim it was about two-and-a-half hours later that he picked up Lloyd from his home for his death ride to a construction site where he was shot six times.
Although two friends of Hernandez are also accused in Lloyd's death, they will be tried separately. Hernandez faces another murder trial set to start in May for the murders of two men allegedly connected to a spilled drink incident at a Boston nightclub.