Murder Weapon? Maid Describes Finding Gun Under A Mattress In Aaron Hernandez Home — 'It Was Heavy!'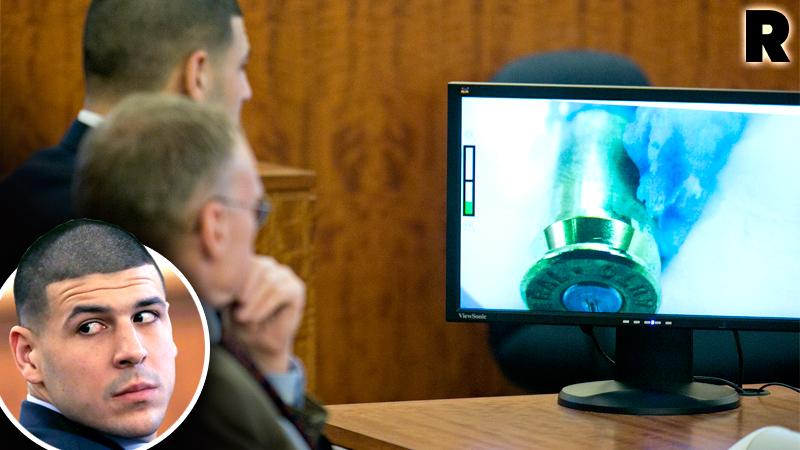 Aaron Hernandez's housekeepers described finding handguns hidden under a guest bedroom mattress and in his pants at the ex-NFL star's murder trial Monday. The judge, however, instructed jurors that not to "conclude because you saw a gun at the residence, he must have committed the crime."
One of the guns was a black semi-automatic pistol that appeared to be loaded, housekeeper Marilia Prinholato testified. "It was heavy," she said, claiming the gun fell out when she was changing sheets in the basement guest bedroom, next to the "man cave" where other witnesses said Hernandez and his buddies would smoke pot and party.
Article continues below advertisement
"I just took the gun and looked at the gun and put it back where I thought it was," Prinholato said.
The other weapon was a small silver handgun that fell out of a pocket in pants at the home, housekeeper Grazielli Andrade Silva testified. That alleged discovery happened as she was cleaning the house on June 25, 2013, a day before Hernandez was arrested for the murder of Odin Lloyd, she said.
Grazielli also testified that she saw the gun under the mattress in the guest bedroom as well, but left it alone.
Police never found the .45 caliber gun they believed was used to killed Lloyd in the early morning hours of June 17, 2013.
The two housekeepers also revealed that Hernandez fiancee Shayanna Jenkins fired them after they refused to sign non-disclosure agreements in the weeks following the killing.
In addition to the housekeepers, two needle factory workers testified about the night the killing took place.
They claimed to have heard four or five "loud bangs" coming from the construction site where Lloyd's bullet-riddled body was found. Barbara Chan testified that she was napping in her car during a break on her overnight shift when the noise, which she thought was fireworks, woke her up.