Aaron Hernandez Murder Trial Jurors See Cell Phone, Gum & Ballistics Evidence—DNA Linked To Death Bullet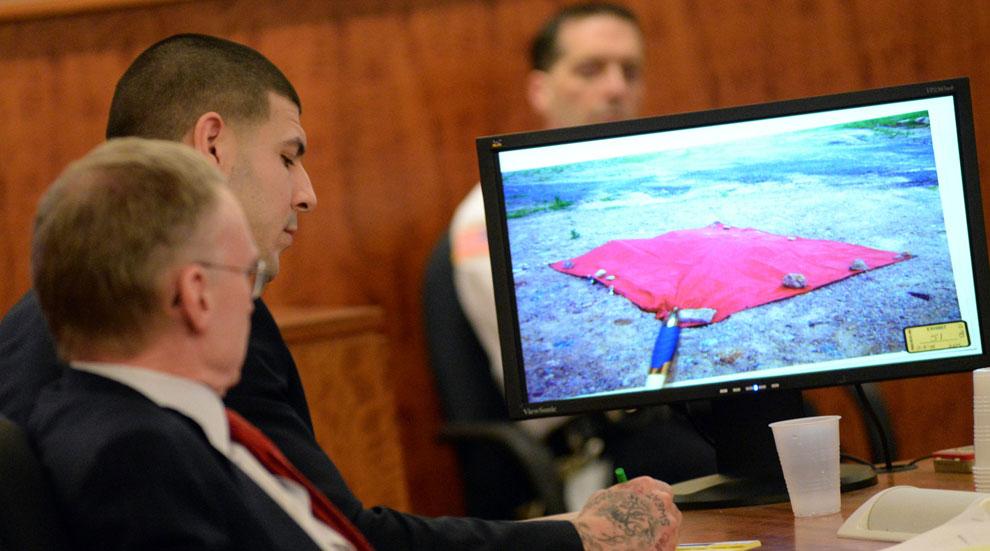 Former New England Patriots star Aaron Hernandez testified briefly in his murder trial Tuesday, speaking just three words: "Yes, your honor."
While it is expected the ex-NFL player will invoke his right against self-incrimination and not testify extensively, his lawyers did let Hernandez confirm he was given a new cell phone a day after he allegedly killed Odin Lloyd.
It was part of a deal between the defense and prosecution that allowed the jury to see a video police secretly recorded of Hernandez breaking his old cell phone into three pieces and giving it to his lawyer, who gave him a replacement. It was shot in a police station parking lot after the former New England Patriot player met with investigators probing Odin's killing.
Article continues below advertisement
Perhaps the most significant evidence presented to the jury was a used piece of chewing gum wrapped around a .45 caliber bullet casing. A detective testified he found it in a dumpster at the Enterprise car rental agency where Hernandez returned a silver Nissan Altima. Investigators believe the vehicle was used to drive the murder victim to the construction site where he was shot to death.
The prosecution told jurors in opening statements that they would show the gum had the defendant's DNA and the shell casing match those found at the murder scene. Police never found the handgun they believed was used to kill Lloyd, leaving the recovered shell casings as their best evidence.
North Attleboro Police Det. Michael Elliot testified that the driver's side mirror was missing from the rental car when it was returned to Enterprise, another significant clue in the case. "It looks like it was broken off," Det. Elliot said.
As RadarOnline.com reported, cops secretly recorded the former New England Patriots tight end and his lawyer in the police station parking lot June 18, 2013 — a day after he allegedly gunned down Lloyd and left the man's body at a construction site near his North Attleboro, Massachusetts home.
Article continues below advertisement
Records of cell phone texts, calls and GPS locations are a key part of the prosecution's case against Hernandez, who allegedly was involved with two other men, Carlos Ortiz and Ernest Wallace, in Lloyd's murder.
Jurors were loaded on a bus last week to view several cell phone transmission towers near the crime scene and Hernandez's home to support their theory of the defendant's movements at the time of the murder.
The controversial video captured Hernandez as he "dismantled his phone," the district attorney said.
"He breaks it down into three pieces — the phone, the battery and the cover are taken apart."
The lawyer then got another phone out of his car trunk and handed it to his client, he said. Phone records show Hernandez then used the new phone to call "co-venturer" Wallace.