Aaron Hernandez Fiancée Claims She 'Can't Remember' Details Of Murder Night — 'I Was Drunk'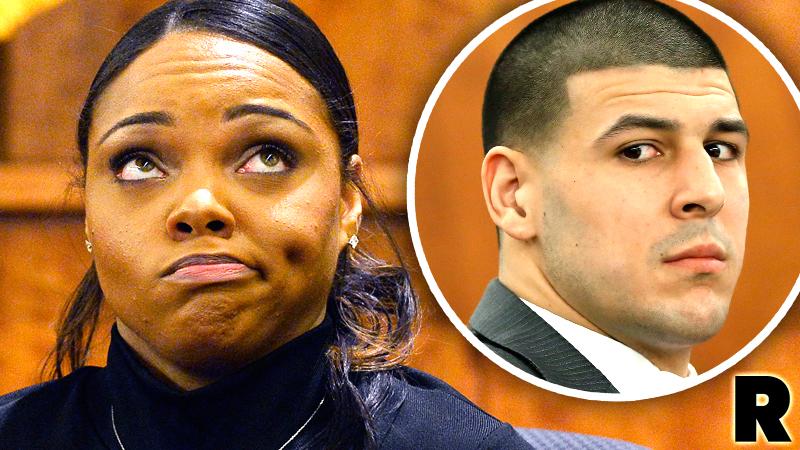 Aaron Hernandez's fiancée was expected to be a bombshell witness for the prosecution after she was granted immunity following many weeks of haggling. But in her first day on the stand, she insisted she couldn't remember key details related to the murder case — including whether a gun she saw in a kitchen drawer looked like the weapon prosecutors contend the ex-NFL star used to kill Odin Lloyd.
Lloyd, whose bullet-riddled body was found in the early morning hours of June 17, 2013, was the boyfriend of Jenkins' sister. She said she is "estranged, sort of," from her sister now.
Article continues below advertisement
Jenkins proved to be a reluctant witness for the prosecution, often answering "I don't remember" when asked about events the night Lloyd, 27, was shot to death at a construction site near the home she shared with the former New England Patriots player Hernandez.
"I was drunk that night," Jenkins, 25, insisted at one point.
Jenkins, who has been charged with lying 29 times to a grand jury, was forced to testify in Hernandez's murder trial Friday because the judge granted her immunity for whatever she says that contradicts her earlier testimony. She seemed to stand by her man and much of her story, even mouthing the words "love you!" as she looked toward the defense table. Her large diamond engagement ring constantly flashed from the witness stand.
When a black Glock handgun was placed on the witness stand in front of Jenkins, she acknowledged it was the same color and shape as the alleged murder weapon, but balked when asked if it was the same size. "I'm not sure," she replied.
She was also reluctant to confirm that the gun she saw in her "junk drawer" looked like a black object seen in Hernandez's hand in a video recorded by a security camera in her home minutes after the alleged murder. Jenkins said she saw "only a black blob" on the grainy video.
Article continues below advertisement
Did she see anything in his hands before he and two men also charged in the killing left their home before the killing? "I don't remember," Jenkins replied after a long pause. "I was drunk that night," she said. Jenkins testified that she and Hernandez drank a lot of alcohol at a bar just hours earlier. "We were both sort of intoxicated."
Jenkins, who is seen on security video carrying a large box from her home the next day, testified that the only thing Hernandez asked her to do the next morning was "to wash a shirt, I think it was." She said she could not remember what shirt it was he wanted washed.
Jenkins was first questioned without the jury present so Judge Susan Garsh could preview how she might answer key questions she allegedly lied about earlier. The prosecution is barred from asking her a question if they believe in advance she will not tell the truth.
Did she ask Hernandez if he killed Lloyd? the prosecutor asked. "I asked him if he did and he said 'No,' and that was the extent of our conversation," she answered.
Jenkins will return to the witness stand for more testimony on Monday.
Prosecutors contend the former New England Patriots tight end organized the murder with help from associates Ernest Wallace and Carlos Ortiz, who have also pleaded not guilty.
Hernandez has also pleaded not guilty to murder charges in a separate 2012 double killing. That trial is set for May.
A male juror was dismissed from the jury as court began Friday "for reasons that are personal to the juror," the judge announced. He was the third juror dismissed since the trial began in January, leaving 15 people on the panel which requires at least 12 for a verdict.