A 'Bad Habit Of Making Myself Get Sick': Michelle Duggar Bares All About Her Bulimia Battle As A Teenager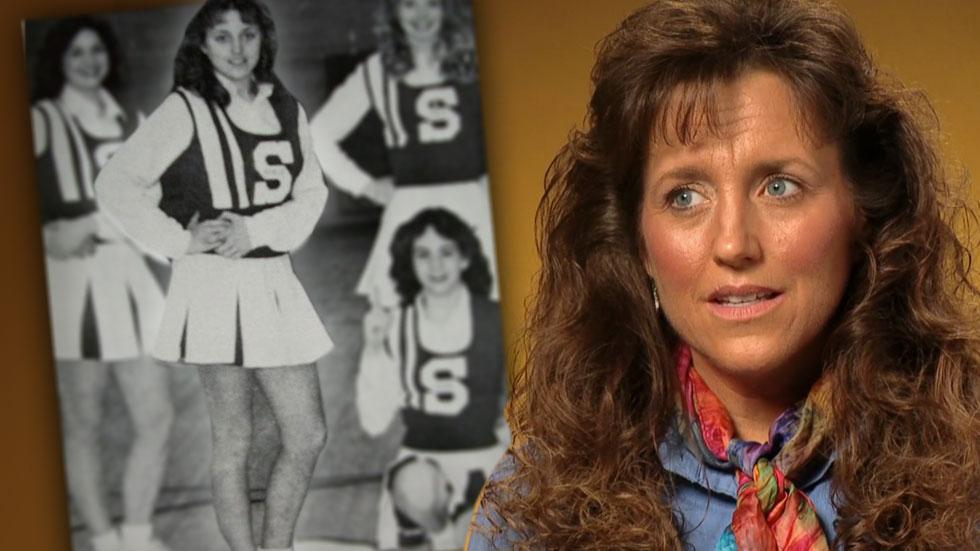 Michelle Duggar bravely went into detail about her past battle with bulimia on Tuesday night 's edition of 19 Kids and Counting.
As RadarOnline.com has previously reported, Michelle had first admitted her teenage battle with bulimia in last year's book Growing Up Duggar, written by her daughters Jana, Jill, Jessa, and Jinger.
The deeply-personal issue was addressed on the family's reality show on Tuesday, as Michelle worked out in the gym with her longtime personal trainer friend Cindy. The gals were getting ready to attend Michelle's 30th high school reunion, which seemed to bring up scary memories for the TLC mom.
Article continues below advertisement
"Before I came to know the Lord, I had been struggling in my self-worth, just feeling like I needed to measure up with all of my friends around me and I just really began to have a wrong view of who I was and felt like I gained weight so easily," the devoted Christian told the cameras. "I ended up starting a bad habit of making myself get sick after I would eat, especially if I had more food than I felt like I should eat.
"And it was destructive for my health, and my life, and I think as I was in that process, no one knew."
Cindy said she was close to Michelle in high school but the future reality star hid her pain well.
"I never, ever got the sense she was insecure about her weight," the fitness expert said, adding that she cried after learning about the eating disorder in the book. "I called Michelle and said, 'You never told me.'"
Article continues below advertisement
Watch the video on RadarOnline.com
Cindy said Michelle then told her she wanted to help others by revealing her past problem.
"I think all girls probably struggle with the same body issues," Michelle said. "The struggle's going to be there: How do you deal with the struggle?
"I just talk with my kids, my girls, my boys and I'm honest with them about the things that I struggled with ... life's too short to never have a chocolate chip cookie, but you need to be wise in how you do that."
Later, Michelle brought husband Jim Bob and some of their children to her class of 1984 high school reunion, where a former classmate remembered days as a cheerleader.
"I think my mom was pretty crazy in high school," daughter Joy Anna told the cameras. "She's calmed down quite a bit."
Jessa even told the cameras she'd found out her mom once had a pet tarantula.
Also on Tuesday's show, Jessa and Ben Seewald, just 42 days from getting married, met with their wedding coordinator, who was shocked when Seewald admitted he hadn't bought a tuxedo yet.
Article continues below advertisement
However, anti-Bridezilla Jessa said in confessional there was "plenty of time" to get Seewald's attire.
On the second Tuesday Duggar episode, Michelle confided that Seewald living on their property was unusual, but it wasn't a terrible thing, as it meant that 17 chaperones were around at all times to monitor him and Jessa.
Then, Seewald led Jessa and a couple of her siblings in a workout, as the soon-to-be bride wanted to get in shape for the wedding.
Jessa and the others tried to push a truck up a hill with Seewald driving it real slow. Michelle was pleased Seewald was helping the kids get fit.
Viewers also saw Jill and her sister Jana trying to cook a Nepalese dinner for Jill's husband Derick Dillard.
At 15 weeks pregnant, most of Jill's morning sickness was gone and she decided to honor Dillard's missionary work and their romance in Nepal by whipping up the traditional meal called dal bhat.
Article continues below advertisement
Jill smiled that she wasn't familiar with the herbs, while sister Jana said her family was better known for making tater tot casserole.
Still, the sisters managed and Jill was glad she could do it for Dillard, admitting smells had made her ill previously: "The first trimester I did not cook. I was like, 'Sorry, babe.' "
When he came home from work, Dillard was thrilled with the delicious dinner.
But although Dillard demonstrated for the girls how Nepalese people ate with their right hand, and Jill followed his lead, Jana wrinkled her nose and decided to use the utensils!
Meanwhile, Jessa and Ben went wedding registry shopping, scanning such items as a pizza cutter, crock pot, and tea kettle.
But Seewald decided to also register for some toys for kids so the Duggar young 'uns could play at their house, and Jessa went along with his thoughtful plan.
19 Kids and Counting airs Tuesdays on TLC at 9/8c.