Snubbed! Rosie's Exit Prevents Whoopi From Leaving 'The View' – ABC Execs Block Her Big TV Project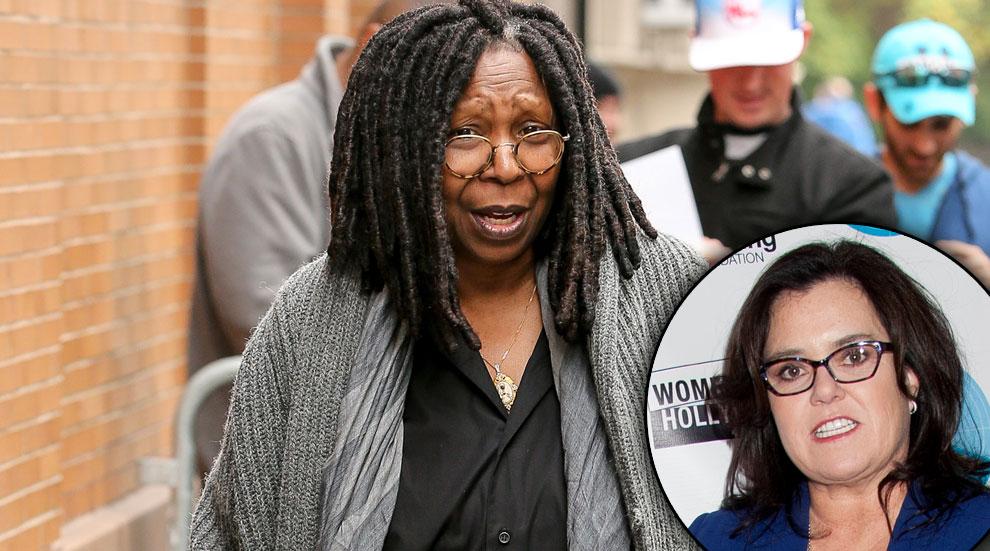 Sorry Whoopi, Rosie beat you to the punch!
O'Donnell's departure from The View has spoiled Goldberg's plans to star in an ABC primetime series, PageSix reports.
Sources say Goldberg had been in talks with ABC about starring in Delores and Jermaine. But after O'Donnell's hasty exit strategy was announced, network execs prevented Goldberg from withdrawing as co-host on The View.
Delores and Jermaine could have been an interesting series comeback for Whoopi. The show centers on "slacker" Jermaine who moves in with his ex-cop grandmother, Delores.
Article continues below advertisement
"Whoopi had the offer to play Delores, but ABC pulled the offer right before Presidents' Day weekend," an insider explained.
However – being a class act –​ Goldberg slammed any rumors of drama, telling PageSix: "I'm trying to get on 'Empire' and ABC has a show that they want me to do … I've always been able to come and go as I choose. It's been in the contract to allow me to go and make movies if I wanted to or do something if I wanted to."
She added: "But it's a lot of work to go and do two or three jobs at the same time. I'm getting older, and I don't want to work that hard. So we'll see how it all works out."
Goldberg also assured viewers that she is "very happy" to still be a part of The View.
"I never put down the fact that I have a really good job, but I also have bosses. They make decisions … sometimes you don't like them and you have to live with them."
Better luck next time Whoopi!