Exclusive
Kailyn Lowry's Marriage Crisis: 'Teen Mom 2' Cameras Causing 'Stress' & Issues With Husband Javi Marroquin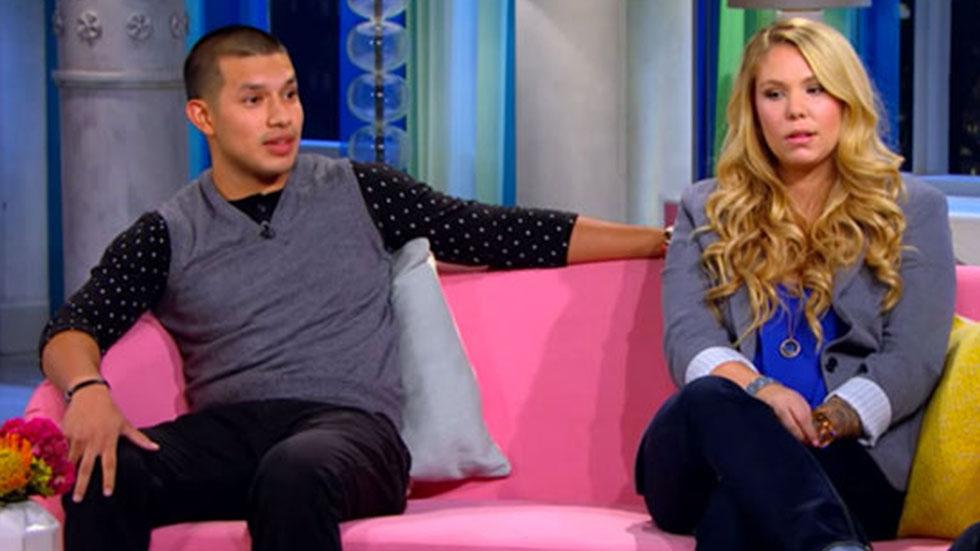 So much for Kailyn Lowry's happily every after. In Season 5 of Teen Mom 2, the MTV reality starlet broke down on camera about the mounting problems in her marriage to Javi Marroquin. And RadarOnline.com has exclusively learned that those marital woes haven't subsided and are going to play a major part in the upcoming Season 6.
"Every single episode is going to be about Kailyn and Javi fighting," a source tells Radar.
Article continues below advertisement
In fact, according to the insider, the cameras only added to the couple's problems.
"It was tough for them for a while," the source says. "Nothing specific happened between them. They were just having fights and arguments over dumb stuff. It was typical young marriage troubles."
"For example, they were fighting about someone from Kailyn's school texting her and like Kailyn going to a concert with her friends, which she had planned three months in advance," the source adds. "It was really dumb stuff."
Still, the drama "went on for a few months," according to the source, until the couple was forced to take drastic measures.
"They started going to counseling and then stopped," the source says. "They just kind of made the decision that if things are going to work, that they need to keep the petty stuff out of their marriage. It's not worth the drama."
"They have been on a good streak since Valentine's Day," the source says. "When they stopped filming on Valentine's Day, the fighting stopped."
Article continues below advertisement
"The cameras put a lot of pressure on them because they always want to be right on camera and don't want to look like jerks, but then they fight and they both look stupid," the source explains. "Filming is so stressful on their marriage."
"They fight so much more about things when it's filmed," the source says. "It would literally blow over if they weren't filming."
Meanwhile, how are Lowry's children coping?
"The kids didn't really know about the fighting," the source says. "They really try not to do it in front of them."
Still, Lowry's oldest son, Isaac, 4, was somewhat aware of the tension. "Isaac will tell them not to fight if he even thinks they are fighting," the source says. "Like if they are joking and it sounds like fighting to him, he will say, 'No fighting!'"
But Lowry's youngest son Lincoln, 1, doesn't have a clue.
Article continues below advertisement
"Lincoln doesn't know about the fighting though," the source says. "He's still too young – and the fights are not serious things."
Now that things have calmed down, there is still hope for the future of Lowry and Marroquin's marriage.
"Kailyn and Javi will get through it," the source says. "They are fine right now."
"But if they don't get through it, they don't. Kailyn loves Javi, but life is too short. She is about to turn 23 and she has two kids and a career ahead of her."
"It's hard too because there's so many people who want them to fail and comment saying, 'They'll only make it through two years of marriage,'" the source says. "So that makes Kailyn want to prove them wrong. But when it comes down to it, it's not about that. It's about her family and their lives."
"Divorce isn't an option right now," the source insists. "But if they couldn't work it out, then Kailyn is not going to keep herself and her kids in a family/marriage that isn't working."