Exclusive
Family Feud! Robin Williams' Widow & Kids Fighting Over His Fortune In Bitter Court Battle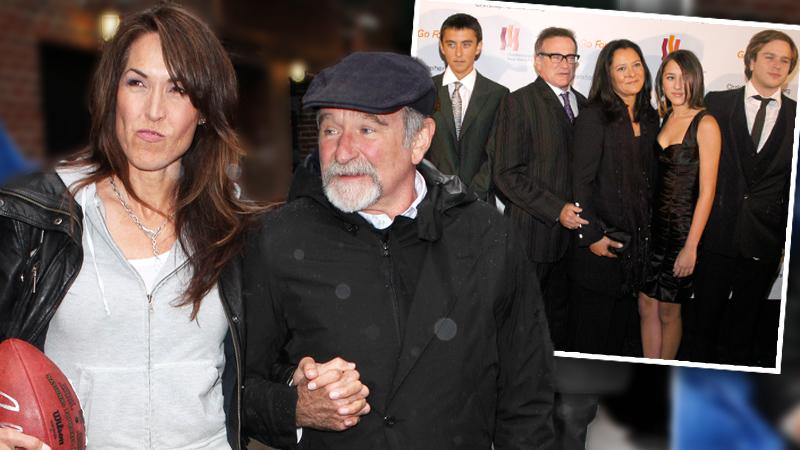 Nearly six months after Robin Williams' tragic death, his grieving family has become embroiled in a nasty legal battle: RadarOnline.com has learned that his widow, Susan Schneider Williams, is fighting with the actor's three children, Zak, Zelda and Cody Williams, over the late actor's possessions.
In court documents filed by Susan Williams shortly before Christmas, she alleges that property was "unilaterally removed" from their Tiburon, California home "days after Mr. Williams death," the New York Times reported.
Article continues below advertisement
After , the documents allege that "certain home related services" such as the newspaper, were discontinued.
The Academy award winning actor and his third wife were married in 2011, and the couple did have a prenuptial agreement.
Son Zack, 31, from Robin's first marriage to Valerie Velardi, Zelda, 25, and Cody, 23, with second wife, Marsha Williams filed their response in January.
The children assert they were only following their father's wishes, as the estate was left in a trust that named them as the beneficiaries.
The actor had also set up a separate trust for Susan, which included the marital home, its contents, and money to cover her for a "lifetime."
Susan's lawyer, Jim Wagstaffe, told the NY Times, "Mr. Williams wanted his wife to be able to stay in her home and not be disrupted in her life with her children."
"Compared to what the Williams children were set to receive from their father, this is a bucket of water in a lake," he said.
Article continues below advertisement
The dispute also involves the . According to the trust, any items — including photographs, clothing, and jewelry — that were accumulated before the marriage to Susan, should go to the children.
But Susan wants to keep Robin's "personal collections of knickknacks and other items that are not associated with his famous persona," including graphic novels, theater masks, movie posters, and the tuxedo he wore at their wedding.
The children haven't been allowed access to the Tiburon home, because Susan says "she became frightened of the co-trustees invading her home," the docs state.
Story developing.