The Chilling Moment Robin Williams' Body Was Found In His Sprawling Mansion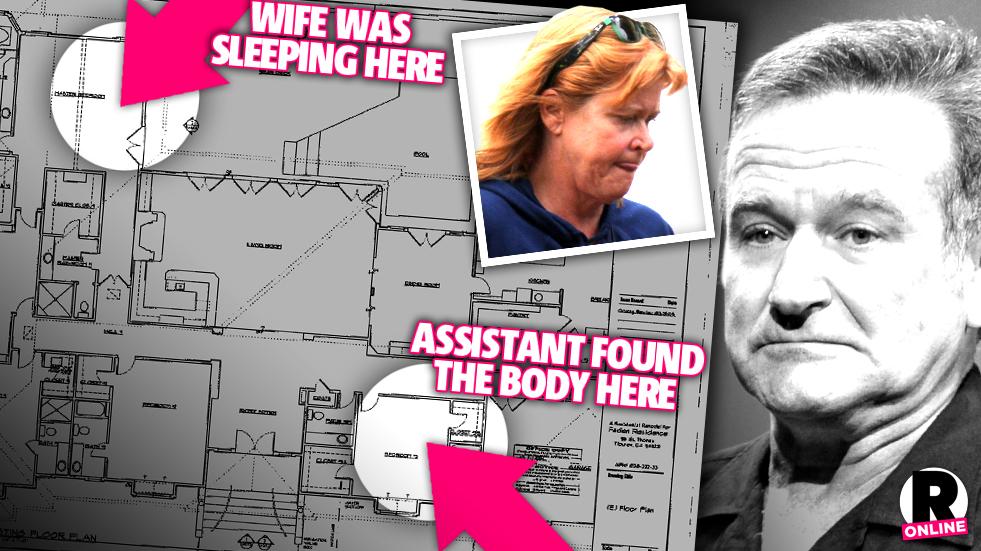 It was Robin Williams' longtime assistant who made the horrific discovery of his body hanging with a belt around his neck in the sprawling mansion he shared with his wife, and a special investigation by The National ENQUIRER reveals exclusive details of the tragic death scene.
Floor plans for the 6,500 square-foot Tiburon, Calif. home show the room where Williams' wife, Susan Schneider, slept on the night before he took his own life, and the bedroom on the opposite side of the home where the iconic actor was found.
Article continues below advertisement
The assistant, Rebecca Erwin Spencer, remains inconsolable, The ENQUIRER reports.
According to the report, the medical examiner has found that Williams likely killed himself just hours after saying goodnight to Schneider.
As RadarOnline.com previously reported, the Sheriff's Office confirmed rigor mortis had already set in when Spencer found Williams and a forensic expert told The ENQUIRER the Dead Poets Society star was likely sitting in the bedroom for 10 to 12 hours before he was discovered.
Spencer was spotted visiting the tragic home in the days after his death, wearing sunglasses and "looking distraught," an eyewitness told the magazine, adding that she "looked like she had been crying non-stop. She looked tired and sad."
A secondary source of support for the widowed Schneider in the days after Williams' unexpected death was his pal, comedian Bob "Bobcat" Goldthwait, who visited her several times.
Goldthwait has been "very supportive in the planning of the funeral," The ENQUIRER reported.
To find out more about the home where Williams was found and the days following his death, pick up the latest issue of The National ENQUIRER.